Artist of the month: Alina Arzoumanian
Dancers are known to be graceful and light on their feet, but there are few dance forms that take these ideas as literally as Aerial Silk Dancing. Despite the dangers involved with the form, senior Alina Arzoumanian has been performing as an aerial dancer at a studio since 2017, practicing not just Aerial Silk, but other aerial dance forms as well. In an interview with The Howler, Arzoumanian talks about her journey as a dancer and all the memories that she's made along the way.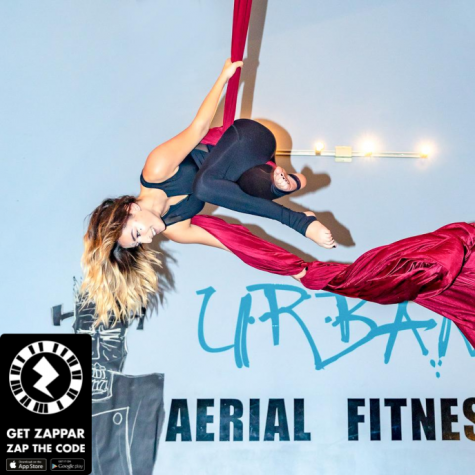 Gabriel Dimaandal: What made you become interested in aerial dancing in the first place?
Alina Arzoumanian: It was my mom, actually. She found it through Instagram, but of course I've known about it for a while, I just never thought I could do it. I didn't think I had access to it in Irvine or anywhere. But my mom found a studio and booked a class for herself and her sister and they took the class. I was 14 at the time, so they didn't know if I could go and attend those classes, so she went for that first class and asked about me and then she signed me up for the next class, and we've been attending the class together for about two years now.
GD: Can you explain your dance form a little more? How does it all work?
AA: The silk we dance on is attached to the ceiling by a carabiner. The silk is actually real and it's super long, and we hang it on the center at the top, so it has two open ends to them. And from there you learn how to climb and how to do tricks. It's kind of hard to explain without watching it, but there's so much that you're able to do.
GD: You said you've only been doing this for two years, right? Was your journey up to this point hard?
AA: Oh yeah, definitely. It's all upper body strength and core strength, and when I started it was kind of difficult. In aerial, you're constantly lifting yourself up. Your entire body weight is hanging off that silk, so you gain that muscle really really quickly. The first week you'd be struggling, but by the second week, you'd be doing all these moves you thought you could never do. And from there everything just builds very quickly.
GD: You've mentioned before that at first you didn't actually know where to go in order to practice. So where do you practice now?
AA: The closest studio that we have is in Fountain Valley, called Urban Aerial Fitness, which is where I've been going. It's family-run, so it's not very big. You go and book your classes, or you can start a membership, which is what I do. You take classes with different instructors on different days, different times, whatever you want.
GD: What do you often practice then? Like different sets or routines?
AA: Every class is different, depending on your instructor. Most instructors start off the class by warming up and stretching since it's very easy to pull a muscle. After that you start running a routine that you will perform in an upcoming showcase, which they hold in the studio itself. After that your instructor will teach you new moves and new combos – it definitely varies.
GD: What are your favorite moments so far?
AA: Definitely the showcase season, especially the last one or two weeks before the showcase. You grow close to everyone that goes there, since it is a small studio. We come together during practices and goof around. During our last dress rehearsal, we'll all go through with the lights set up and in our costumes – it's a really fun experience.
Leave a Comment
About the Contributor
Gabriel Dimaandal, AR Editor
Gabe "The Babe" Dimaandal is a Northwood senior and The Howler's first...