Fresh to ASB: freshman elections
Many freshmen are timid and shy during their first few weeks at Northwood, but not these ones. Jonathan Kang and Sean Lee were elected freshman class president and vice president, respectively, in the recent freshman elections.
Although having more than one winner in each position was impossible, each candidate brought a unique personality and the students elected were motivated to change Northwood for the better.
"I'm really excited, hyped and I'm ready to do a lot for this school," Kang said.
As freshman class president and vice president, Kang and Lee will be responsible for the Freshman Class Council (FCC), which hosts a variety
of events throughout the year, like the Sip 'n' Study and the Talent Show. The council has several great ideas to improve Northwood this year, and the enthusiasm to leave their mark on the school is shared by everyone on the team.
"This year we want to make freshman year very fun and exciting for everyone," Lee said. "We're going to do that by planning events like advisement challenges, where each TA competes with each other."
Candidates first had to fill out an application and get it approved before preparing a speech on why they are a worthy candidate for their position. The students had to present their speeches in front of the entire freshman class in the theater to persuade people to vote for them.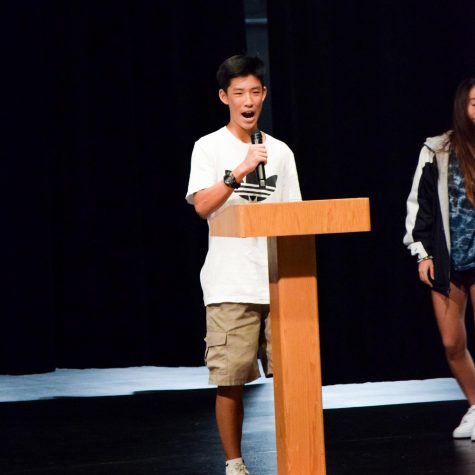 Although this may sound daunting, these brave newcomers took on the challenge in stride.
Although recruitment for FCC has ended, there are several other ways to get involved at Northwood.
Joining clubs is an enriching way to spend your time and is also an avenue for potential leadership opportunities.
Becoming the representative for your advisement in Student Forum or joining sports teams are other great ways to enrich your time at Northwood. Overall, being active in the community can help you gain a meaningful high school experience and obtain first-hand exposure to leadership.
"I wanted to run for president because I wanted to actually be a part of high school and make a difference," Kang said. "There's four long years, and that's four years to make great memories."