Podcast Mania: Five podcasts to tingle all five senses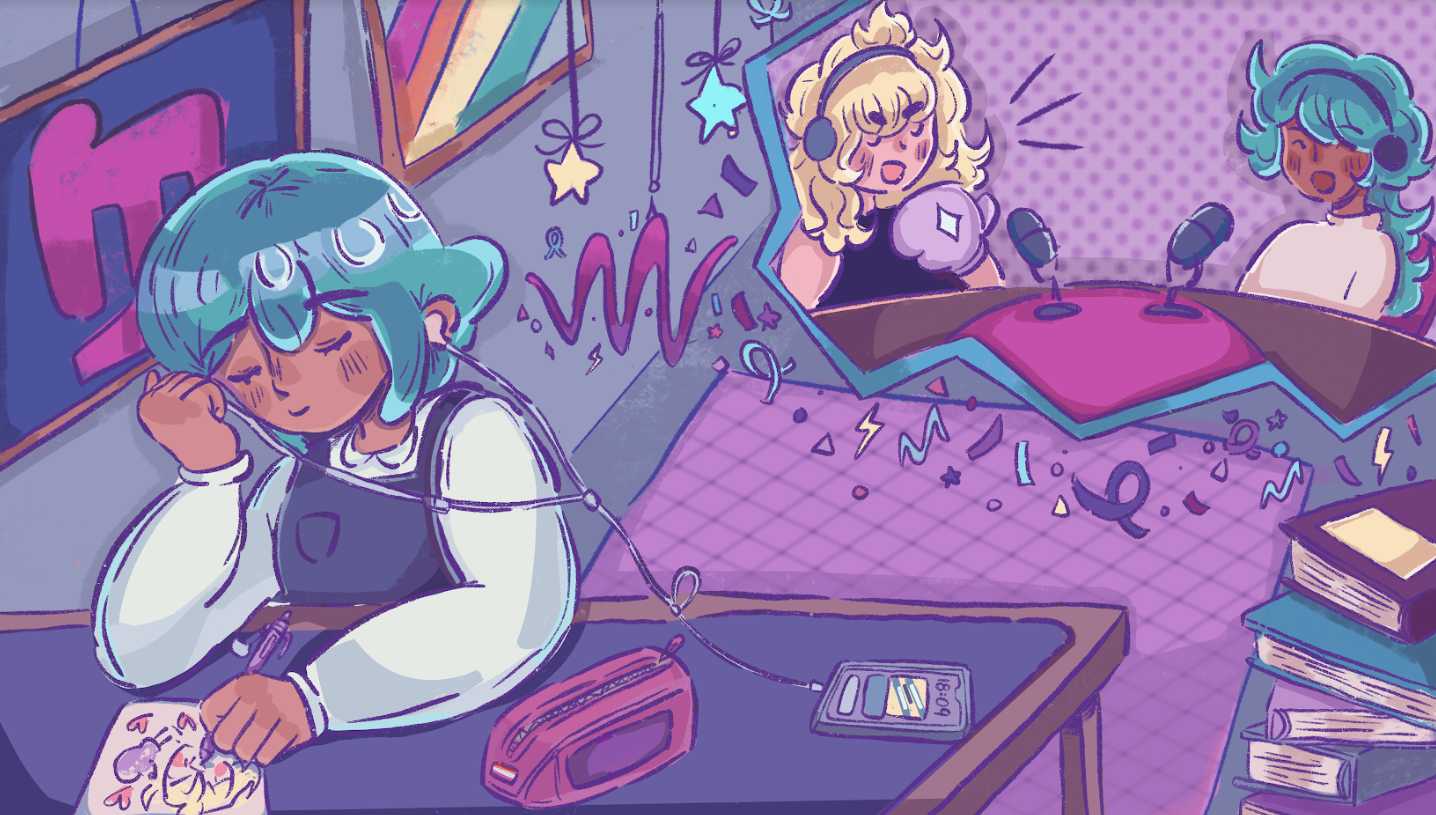 Podcasts live in every corner of major streaming services—meaning that no matter who you are or what you enjoy, chances are that you can find a podcast exactly suited to all of your listening needs. Here are five podcast recommendations, ranging from trivia to skincare.
"This American Life"
Starting with the model picture of autitory journalism, "This American Life" tells the candid, raw stories of Modern Americans.
In weekly episodes, stories from people of different backgrounds and ages across the country build around central themes, such as disgruntled preschoolers or the 2008 economic collapse. The first podcast to win a Pulitzer Prize and boasting half a dozen Peabody awards, the ex-radio program explores monumental events in American history, grieves loss and retells heartwarming tales.
You can listen to "This American Life" on most podcast platforms including Spotify and Apple Podcasts, over 500 radio stations or dig through the entire archive of 700-and-counting episodes on the This American Life website.
"Fat Mascara"
"Fat Mascara" serves the latest discourse from the world of beauty on a steaming silver platter.
"Fat Mascara" talks to beauty fanatics about what makes the glamorous industries of makeup, skincare and lifestyle turn.
On its Wednesday episodes, the podcast analyzes the latest ins-and-outs and gives advice and product recommendations to listeners. On Fridays, they interview guests from deep within the beauty industry—past guests have included celebrities like Kim Kardashian and Gwen Stefani, alongside experts such as dermatologists, perfumers, makeup artists and even psychologists.
You can find "Fat Mascara" on Apple Podcasts, Spotify and Stitcher.
"You're Wrong About"
If you've never listened to an episode of "You're Wrong About," you wouldn't be wrong about what you think it's probably about. "You're Wrong About" takes a different approach to historical events, such as people that have been misjudged in the court of public opinion.
Host Sarah Marshall, a journalist from Portland, is joined by a guest each episode to explore different perspectives of events such as the OJ Simpson trial and the Dyatlov Pass incident. Marshall's witty quips and obscure metaphors paired with clever comebacks from the guest stars make for an hour of brain food that you will walk away from with a changed point of view.
You can find "You're Wrong About" on Spotify and Apple Podcasts.
"No Such Thing As a Fish"
"No Such Thing As A Fish'' is brought to you by the "elves" of British comedy quiz show "QI"—"elves" meaning that they are the people who research and gather the most obscure trivia bits for the show, like what everyone's least favorite number is (It's 110, according to a research conducted by mathematician Alex Bellos). As such, "No Such Thing As A Fish'' is a weekly podcast where the hosts share their favorite new facts from the past seven days.
Dan Schreiber, James Harkin, Andrew Hunter Murray and Anna Ptaszynski personify late-night Wikipedia rabbitholes, explaining the story behind their facts and clarifying the very non-suspicious ways in which they discovered said facts. The chemistry between the four hosts makes you feel like you're sitting at a weekly catch-up with old friends.
New episodes are uploaded every Friday on most streaming platforms.
"Ridiculous Crime"
Alright, you've waited long enough—here's your true crime podcast. "Ridiculous Crime" promises a 99% murder-free podcast with 100% absurdity—from con artists to organized shoplifting, Zaron Burnett and Elizabeth Dutton tell them all.
Full of historical facts, drink-spitting banter and obscure trivia, every episode will have you listening through the credits to see what silly names they give the crew. The hosts' auditory storytelling complete with music and sound effects, swing open to let a ray of light into true crime.
New episodes are uploaded every Tuesday and Thursday anywhere podcasts are streamed.