Candlelit concerts sure to light hearts on fire this Valentine's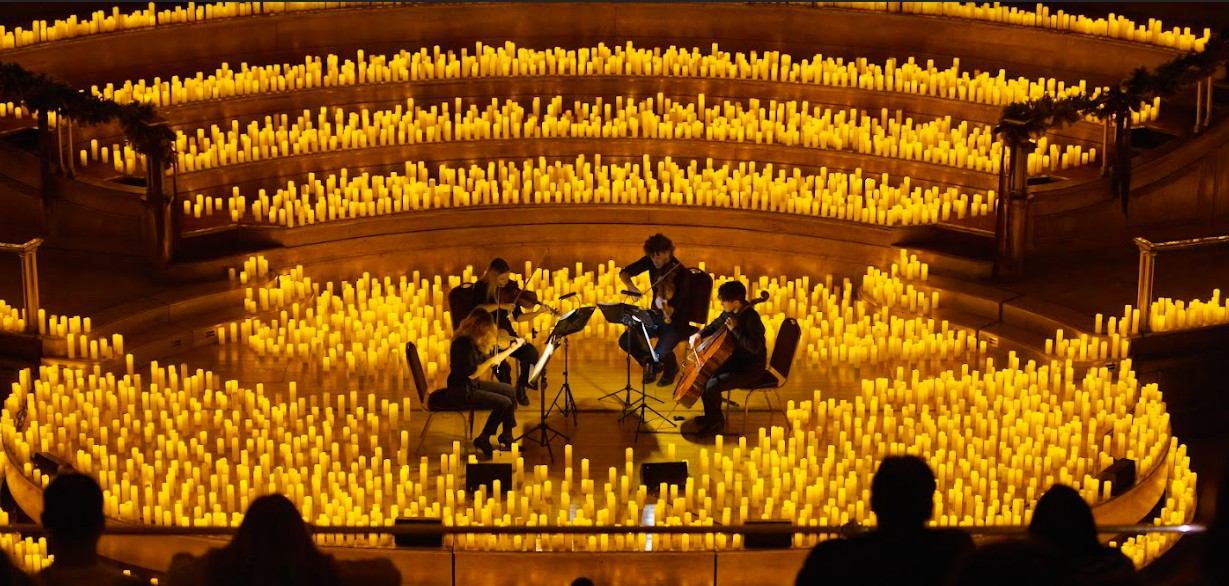 There's a feeling you get when you see something so breathtakingly magical; a feeling where your heart flutters in a tranquil, awe-struck wonder and your eyes can't help but widen to take in the too-perfect sight. This feeling—I can almost assure with certainty—you will get when you experience Fever's Candlelight Concerts, sitting in an intimate venue lit entirely by the light of a thousand candles.
The Candlelight Concerts are a step into a romanticized past, mixed with all the best from the present. Local string quartets, solo pianists and larger ensembles perform classical covers of popular songs and soundtracks (à la "Brigerton"), from tributes to singers like Taylor Swift and Frank Sinatra to renditions of modern composers' works like Interstellar's Hans Zimmer and Ghibli's Joe Hisaishi.
Illuminated by candles and set in various iconic venues in the Los Angeles area, these concerts evoke a regal, royal atmosphere while also being peaceful and serene.
"We see a lot of tears and a ton of marriage proposals," senior project manager Dana Moutis said to NBC Los Angeles. "People are taken aback because they don't realize what a simple experience could do for the human experience."
The magical experience can be primarily attributed to the atmosphere. Capacity ranges anywhere from 50 to 200 seats, making for an intimate experience.
Depending on the venue, audiences could be indoors, outdoors, facing the performers or surrounding them. No two concerts are exactly the same—making it an experience you can continue taking part in time and time again.
"
People are taken aback because they don't realize what simple experience could do for the human experience. "
— senior project manager Dana Moutis
The concerts first premiered in Madrid by Spain-based entertainment company Fever and have now spread to over 100 different cities across the globe, including Los Angeles, where the concerts first took place in October 2019.
Over 3 million people have attended the concerts worldwide, and with concert ads gaining millions of views on Facebook and TikTok, it seems like its popularity will only continue to grow from here.
Through this media outreach, Candlelight concerts hope to make classical music more accessible to the mainstream public.
By diversifying and challenging the way "classical music" looks—adapting it to feature contemporary artists like BTS, Queen and ABBA—the company hopes to offer audiences a new perception of classical music as well as give them a unique and unforgettable experience, where leaving the show feels like awakening from a dream.
With tickets starting at as low as $30, it is an experience certainly worth every penny. Upcoming shows include tributes to jazz icons Ella Fitzgerald and Louis Armstrong on Feb. 22, Taylor Swift on March 2 and Hans Zimmer on March 8.