Summer breaking news: violence and tension
Unlike high school students, the world doesn't get a break for summer. For those that tried to escape the horrible world outside and used friends' Instagram stories as their only source for news, here is a recap of a few world events from over the summer.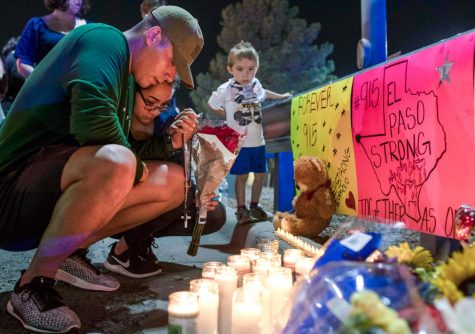 Mass shootings and the push for gun control:
Mass shootings in Gilroy, California, El Paso, Texas and Dayton, Ohio occurred within the span of a week, leaving 34 people dead and dozens more mourning.
President Donald Trump has publicly entertained possible stricter gun control, leaving Congress under the pressure of legislative proposals pushing for stronger background checks, bans on assault weapons and "red flag" laws that would prevent those threatening to harm others from possessing firearms.
Senate Majority Leader Mitch McConnell (R-Ky.) shows no signs of calling back the Senate from their August recess for an emergency session to discuss gun control. Lack of immediate response could result in decreasing momentum for action from Congress and eventual failure to pass any legislation at all, as was the case with previous mass shootings such as the one in Stoneman Douglas High School in 2018 and Sandy Hook Elementary School in 2012.
Both Trump and the National Rifle Association (NRA) have claimed to be in favor of "red flag" laws, but no action has been taken yet on behalf of their voiced support.
Democratic primary presidential debates:
23 Democrats and two Republicans including President Donald Trump have entered the race for the presidential election to be held on Nov. 3, 2020. Two rounds out of 12 Democratic primary presidential debates were held on the nights of June 26-27 and July 30-31.
During the first round, the candidates discussed the pressing issues of healthcare, border crossing, treatment of undocumented immigrants, racism and more. One of the most stand-out moments was Sen. Kamala Harris (D-Calif.) calling out former Vice President Joe Biden for his work with two segregationist senators decades ago, while bringing up her own experiences being bused to school in California.
The second round featured topics of socialism, climate change, gun control and tax cuts as well as many of the previously listed issues. Moderate and progressive Democrats clashed with one another more noticeably than before as Sen. Bernie Sanders (I-Vt.) and Sen. Elizabeth Warren (D-Mass.) came under attack for their support for Medicare for all. Aside from disagreements on policies and possible reforms, candidates in the debate slammed Trump and appeared to be united in terms of their disapproval for the current president.
There are even higher candidate qualification requirements for the next round of debates in Houston, Texas on Sept. 12-13.
Senate fails to override veto of bill to end Saudi Arabia weapons sale:
On July 26, the U.S. Senate failed to override Trump's veto for a bill that would have prevented the sale of $8.1 billion worth of arms to Saudi Arabia.
Congress's bill was originally intended to avoid civilian casualties in the Saudi Arabian war in Yemen and pressure Arabia into improving its human rights. This decision was partially influenced by growing skepticism towards the Saudi Arabian government after the murder of Washington Post columnist Jamal Khashoggi last year.
The Trump administration dodged a congressional review back in May before going ahead with the sales. Trump claimed the weapons were necessary precautions as the threat of Iran became dire, and that the resolution would "weaken America's global competitiveness".
Both chambers of Congress fell short of the two-thirds vote needed to override the president's veto as weapons trade with Saudi Arabia persists.
Hong Kong citizens protest against an extradition bill:
Protests against Hong Kong's extradition bill have entered their eleventh week, with violent demonstrations becoming more frequent as police were seen throwing tear gas during demonstrations.
Initial protests were in opposition to an extradition bill that would have allowed for Hong Kong residents to be sent to trial in mainland China's criminal courts. Due to being under British jurisdiction for over 150 years before being returned to Chinese rule in 1997, Hong Kong's British-influenced legal system includes rights that mainland China lacks, including freedom of the press and speech.
Thousands took to the streets in disapproval of the extradition bill out of fear that it would be a violation of their civil rights and threaten their rule of law. A video of riot police beating protesters with batons was captured on film, along with dozens of others that were posted of civilian injuries from by police fire. According to authorities, the police also suffered several casualties from petrol bombs and bricks hurled at them.
However, the majority of the civilian demonstrations are peaceful, and many employ creative defense tactics in order to stay safe under the massive police crackdown. Wearing makeshift armor made from biking gear and wielding suitcase covers as shields, protesters are coming up with new ways to prevent being tracked, like using lasers and spray paint to obscure surveillance cameras.
What had started as a protest against the bill has escalated into massive backlash against the Hong Kong government as demands for democracy and police accountability become fiercer than ever.
Leave a Comment
About the Contributor
Mei Ono, Editor-in-Chief





Mei Ono is a senior and the Editor-in-Chief of The Howler who has...