Flash! Alexei Tolkachev, one in a million (shot)
The roar of the student section, cheerleaders announcing the score, the bustle of players as they celebrate a win: These are Friday night staples for sports photographer Alexei Tolkachev as he captures Northwood athletes' most triumphant moments.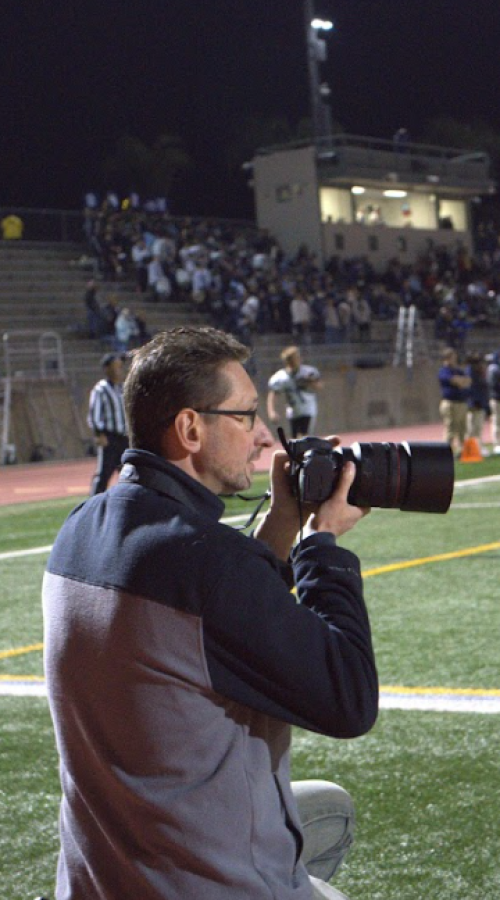 Tolkachev, a former sports reporter for Russian publication based in California and founder of One in A Million Shot, developed an interest in photography from his father and has been capturing moments around him since he was a teenager. Through interviewing Russian athletes such as tennis player Maria Sharapova and hockey player Sergei Federov, Tolkachev took pictures that would help readers interpret the athletes' performances, marking the start of his sports photography career.
"I always wanted to add to the words I was collecting," Tolkachev said. "Those photos weren't very good but I still like to look back at them."
When his two daughters got involved in sports, Tolkachev began photographing their journey, slowly building his collection of equipment and making it more of a priority. After nearly seven years of photographing his children, Tolkachev was asked by Northwood to photograph the football team, before slowly spreading into various other sports, including swim, soccer and lacrosse. He is always looking to expand his reach in photography, however, and this year, Tolkachev photographed Northwood tennis for the first time.
"Each sport is always a new challenge," Tolkachev said. "But it's also exciting since all the photos look different."

Action shots are a significant component of capturing sports and are an art form when executed flawlessly. Understanding the sport is a necessary aspect of sports photography and its importance increases multifold when dealing with action shots. Plays, positions and distribution of players are a few of many factors which influence shots and the success of each photo.
The numerous settings on today's cameras also influence each shot. Tolkachev uses 1/1000s shutter speed to capture shots quickly and with clarity along with auto white balance and ISO, although these change depending on the sport. The shots not only require technical accuracy, but incredible art and creativity to frame a shot just right.
"Rule number one for capturing action shots is to never be afraid to ask questions," Tolkachev said. "It helps after a few games with a team since you know the strong players and how the play develops."
Football, which has occupied Tolkachev's attention over the fall season, is an example of how challenging sports photography can be. With his attention split between students, players, the marching band and the cheerleaders, Tolkachev attempts to make the most of every moment, engaging with the attendees through candid shots and capturing each player at their finest moments.
Constantly walking up and down the field, Tolkachev critically observes each move on the field, each cheerful moment in the stands and each new backdrop and stadium to keep his photography upbeat and fresh while maintaining the integrity of the sport.
"I try to anticipate what the plays are going to be and what I can photograph," Tolkachev said. "I always try to think of good composition and a photo that will tell a story."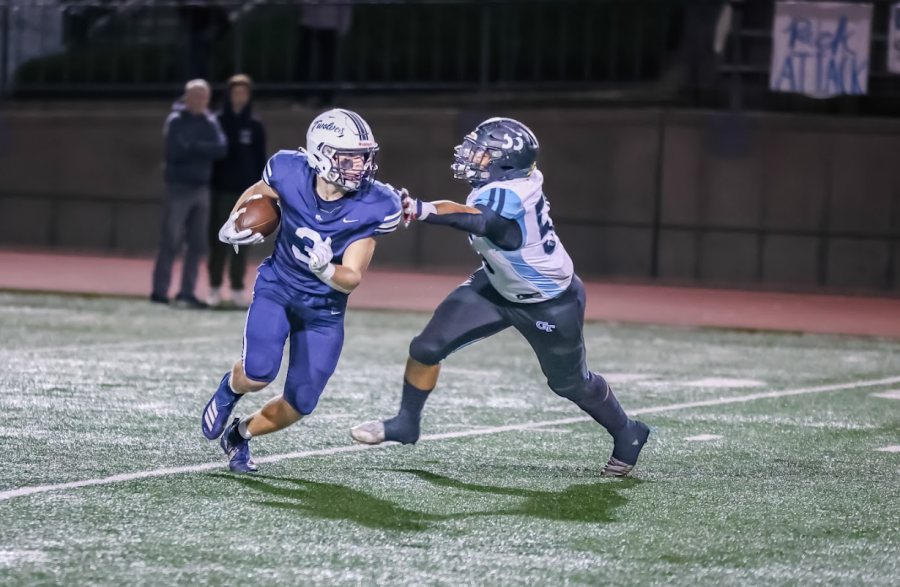 As Tolkachev transitions into the winter season, he prepares to capture long-awaited sports including soccer, wrestling, water polo and basketball. As each sport comes with its own advantages and challenges, Tolkachev hopes to capture important moments for athletes across the board, from frosh-soph players all the way to varsity.
Tolkachev's time is also spent editing and going through thousands of photographs before they are posted soon after games on his instagram page, @oneinamillionshot. Picking out the best pictures of each player and the crowd, Tolkachev also posts his photos on his website, https://www.oneinamillionshot where they can be downloaded.
As aspiring photographers pop up throughout Northwood, Tolkachev hopes they can find their role models and perfect their art through growth and advice. Understanding photography means understanding the behind the scenes of every moment—from lighting to movement—but also the energy of the moment, and Tolkachev hopes each aspiring photographer can capture what they love.
"Photography is like a triangle," Tolkachev said. "Learn, try and share. Realize that photography is a life-long learning endeavor. Believe in yourself and enjoy the journey."