Orange County Museum of Art: Exhibiting the fluidity of time, life and art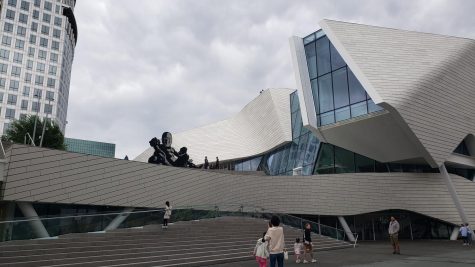 Art, like beauty, is in the eye of the beholder. The unsettling can feel vaguely comforting. The seemingly meaningless can be profound. Strangeness can be masterfully beautiful, just as inherent beauty can be subtly strange. 
Orange County Museum of Art embraces the oxymorons of art, harnessing their complexity to resonate in the curious minds of all. After a 35-year wait, the 53,000-square-foot OCMA opened its doors on Oct. 8, settling into its permanent location at the Segerstrom Arts campus in Costa Mesa. Along with its exhibitions, the museum features a grand staircase, education pavilion, a suspension walkway, roof terrace, gift shop, bar and cafe. 
The museum itself is art in its own right, designed by Pritzker Prize-winning architect Thom Mayne. White terracotta tiles make up the curving walls that flow across the landscape. Its fluid look almost foreshadows the art that lies on the inside. 
OCMA features four exhibits, displaying a variety of art forms that include paintings, ceramics, sculptures, textiles, mixed media, video and large-scale installations. While each exhibit is distinct in its effect, all cohesively work to transform the viewer's perspective of the world around them. 
Entering the museum, the first exhibition you stumble upon is entitled "13 Women" and pays homage to the original 13 women who came together to found the Balboa Pavilion Gallery, OCMA's predecessor institution. The pieces in this exhibit each present different approaches to perceiving the world and our place within it.
Chris Burden's "Large Glass Ship" is a standout in this exhibition. Panels of glass in the shape of a military ship hang suspended from the ceiling; figures of soldiers stand armed upon its surface. It looks at the world at war as a delicate piece of glass; at any moment, it could fall and shatter. 
Another favorite is the eye-catching "Supernova" by Lee Bul, a sci-fi-esque creature—part sea animal, part insect, part human, part plant—with its fingers extending like plant roots and its head blossoming like a flower. As the hanging sculpture rotates ever so slightly, an unsettling feeling of confusion overtakes you, and yet something magnetic about its form keeps you from turning away. This piece is meant to transform our preconceptions of beauty, showing us the beauty within its strangeness. 
The second exhibition, the "California Biennial" is a collection of works from various Californian artists. It displays a diverse selection of perspectives, all uniquely different in theme, but tied together in all being produced in California. 
Unconventional sculptures, crafted by half-Mexican half-Samoan artist Maria Maea, leave you marveling at their intricacies. These sculptures are made from palm leaves, corn stalks and other vegetable matter grown in the artist's own backyard. As the pieces are transported between exhibitions, they change—the flowers dry, the seeds fall, the color fades—resembling our own constantly-evolving human nature.
Turning a corner, viewers may be shocked by a large, expressionless cardboard coyote crouching on the museum wall. This piece, entitled "Coyota" by Mexican-American Hector Dionicio Mendoza, commemorates two of Mendoza's aunts, who worked as "coyotas," people who assist immigrants sneaking across the U.S.-Mexican border. This message becomes apparent as you look closely and notice that the legs of the coyote are indeed the silhouette of a human's, hiding behind the cardboard mask. 
A visit to the second floor takes visitors into the third exhibition, "Fred Eversley: Reflecting Back (the World)" which will be open until Jan. 15. The exhibition displays distinct polyurethane sculptures of polished, reflective lenses that shift in the light, reflecting and refracting "not just the world but also our place within it." Each of these lenses operate like miniature universes or galaxies, and a look into them alters our perception of the world around us, warping space and color to show us an alternate perspective of life. 
OCMA challenges common perceptions and presents to patrons the ever-changing fluidity of art and life. Art flows in the same undulations as the museum walls, commenting on how times and perspectives change as beautifully as art depicts. By stepping into the museum, you step into a transformative state of mind, where your eyes are opened and your mind is altered. 
To experience OCMA, visit 3333 Avenue of the Arts in Costa Mesa, 10 a.m.- 6 p.m. Tuesdays, Wednesdays, Sundays or 10 a.m.- 8 p.m. Thursdays through Saturdays. Admission is free in alignment with the museum's mission to make art accessible for everyone.