CIF Southern Section opens doors for girls flag football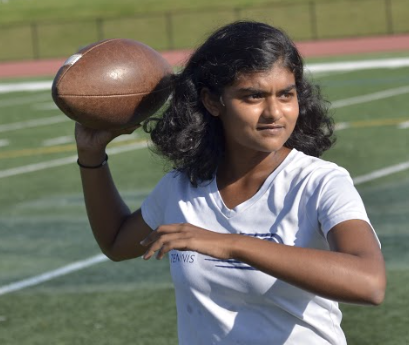 The CIF Southern Section passed a proposal allowing girls flag football to become a sanctioned sport on Sept. 29. The proposal will be voted for approval at a council meeting in February and if approved, will take effect starting the 2023-24 school year.
"We are excited at the idea of getting a girls flag football team at Northwood," athletics director Sierra Wang said. "Both Mr. Emery and myself look forward to hearing from those who are interested and continuing this conversation."
Friday night football games are an integral part of the American high school experience, but girls often remain sidelined.
Girls are technically allowed to join tackle football teams, and many do, including Laguna Beach High School athlete Bella Rasmussen who became the first female student to score two touchdowns in a high school game in California last week. But being the only girl, or one of few girls, on a male-dominated team presents challenges for female prospects in participating in teamwork and camaraderie. According to the CIF proposal, flag football would expand access to the values, teamwork and educational pathways to female players.
"I like the idea of strategy and using your IQ to the fullest," junior Hanah Khattab said. "Football is such an all-hands on deck game, and that builds a strong connection between players."
Flag football has gained popularity in IUSD in the past few years, despite not yet being an official CIF sport.
"I've been seeing other high schools like University and Woodbridge with flag football teams and always wished Northwood had one," sophomore Elle Kivo said. "The speed and intelligence of the game is really exciting and different compared to other sports."
Funding for transportation, uniforms and equipment will be aided by Nike and the NFL, who are donating $100,000 to CIF specifically for girls flag football. Encouraging girls to play flag football not only promotes female athletes, but also grows the NFL's viewership, meaning more money for the organization.
"I'm super excited at the possibility of flag football becoming a CIF sport next year," junior Singh Saige said. "I'm glad there are beginning to be more options for female athletes."