Reforming the pack: Northwood's efforts in WASC visit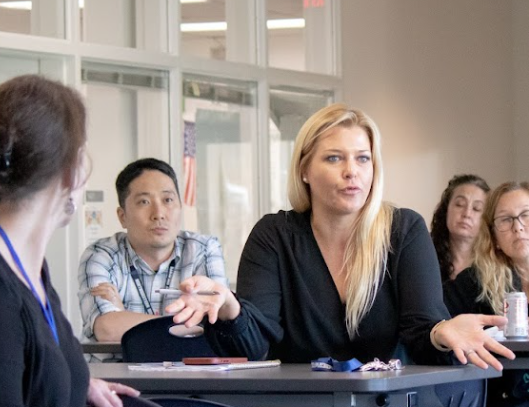 The Western Association of Schools and Colleges, WASC, visited campus Oct. 16-19 to observe how students, staff and administrators operate during typical school days, which will help determine whether Northwood is an accredited high school, meaning colleges will recognize diplomas from Northwood.
The WASC team visited every classroom to observe the interactions within classrooms and the various methods of teaching in school. Additionally, WASC visitors randomly asked students for their opinion on the school's strengths and weaknesses during class.
Prior to the official visit, Northwood identified several areas of academic need, including supporting underrepresented minority students' academic achievements, keeping parents more involved and informed and enforcing attendance rules to remind students of the consequences of unexcused absences and tardies. With this information, administrators devised an action plan to address these concerns throughout this school year, which were presented to WASC.
"The visit went better than I expected," Northwood's WASC coordinator Christina Banagas-Engelerdt said. "The visiting team gave feedback that they felt our procedures were effective and their visit was smooth."
Every six years, WASC-accredited schools conduct a self-study accompanied by a visit from a panel of educators to renew accreditation. This ensures that schools are meeting WASC standards of education and are improving the quality of the school education, school culture and extracurricular opportunities.
"It was important for the visiting team to hear from all stakeholder groups, as well as our focus groups," Banagas-Engelerdt said. "If we don't have input from everybody, it's not an authentic reflection and self-study."
Evidence was collected through five focus on learning groups that consisted of representatives from stakeholder groups, parents, staff, administrators and students. These members helped evaluate Northwood's adherence to WASC's main criterias of Organization and Leadership, Learning and Teaching, Curriculum, Assessment and Accountability and School Culture.
The focus groups have been meeting since March 2022 to share their experiences and observations about the school to use as evidence for reforms. Lead teachers of the focus groups facilitate discussions and organize the evidence they receive to incorporate in the school's self-study.
"It's eye-opening for me because there are diverse points of view that students may have never known about," focus group member junior Hanmo Yang said.
WASC affirmed Northwood's self study after observation, and approved of the action plan. The WASC visiting team emphasized the importance of helping underrepresented students achieve academic success and developing better intervention methods for struggling students. They were impressed with the quality of Standards Based Grading, the collaborative environment between students and staff and the variety of extracurriculars offered.
The final result of Northwood's accreditation renewal will be revealed in January 2023.