A look into the future of public transportation in Irvine
The City of Irvine's 2022 Transit Vision study, now in its closing stages, will be finalizing its concept plans for improved local transportation options later this month, which includes newly-proposed shuttle service routes and a low-cost Uber-like system called microtransit. 
The Transit Vision study, which began in September 2021, sought to redefine the transportation needs of Irvine residents in a post-pandemic society and evaluate new options that would help residents get around the city more efficiently.
"The City was thinking about instituting new shuttle routes that wouldn't only be from the train station to work centers," the City of Irvine's Transportation Commission vice chair Scott Hansen said. "They started to think about how we can use public transit to further support both the residents and also our business community." 
There are two new transit options being evaluated in the study: a neighborhood shuttle service which would follow shorter and more frequent routes operated with smaller vehicles, and microtransit, where users can request a city-operated ride via a phone call or app.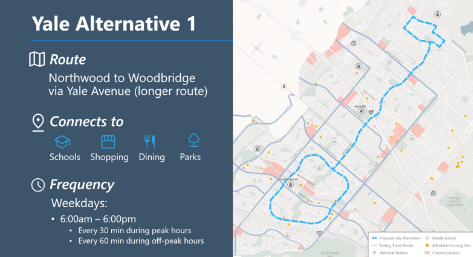 YALE ALTERNATIVE 1 ROUTE
Northwood students should keep an eye out for the potential "Yale Alternative 1" shuttle route, which would connect Northwood High School to Woodbridge High School via the Yale loop. The route connects shopping centers, residential areas and community parks for more convenient and frequent public access.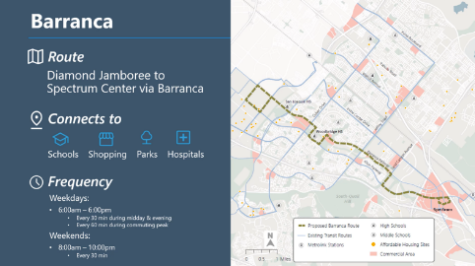 BARRANCA ROUTE
Another shuttle route that the City is considering is the east-to-west "Barranca" route, which connects Diamond Jamboree to the Spectrum Center and would additionally operate on the weekends for shopping center access across town.
This neighborhood shuttle proposal mirrors the trolley system in Laguna Beach. Established in 2002, the Laguna Beach trolleys connect local sights in the downtown area and run every 20-30 minutes.
"I think the trollies are a good way of free transportation along Laguna since it's pretty unrealistic to walk and they were easy to use as well," junior Cheryl Lin said. "I think Irvine would benefit from a similar system since I know a lot of students run into issues with transportation for school and elderly people would also benefit, since many of them may not be able to drive."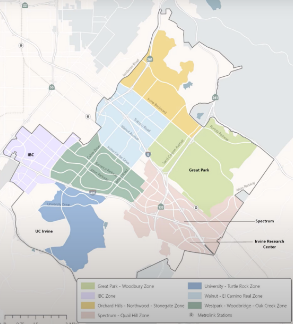 The second proposal, microtransit, is a new, flexible style of transit where residents can call for a ride to almost any location within a neighborhood. Microtransit would operate within a zone where residents can be picked up or dropped off. In comparison to ride-sharing services such as Uber or Lyft, microtransit is planned to be low-cost with a short wait time. 
The City of Irvine's primary goals for implementing a more frequent public transportation option revolve around relieving parking and traffic congestion and reducing greenhouse gas (GHG) emissions, all part of the city's much broader goal to become carbon neutral by 2030.  
"Fewer cars on the road means decreasing carbon emissions, and buses and trains transport a lot more people than cars can, which greatly reduces emissions per person," the City of Irvine's Climate Action community engagement coordinator Lauren Fleming said. "When public transit is safe, reliable, affordable and convenient, people are much more incentivized to use the transit systems and not rely on their cars as much. " 
According to Fleming, the emission reductions from public transit are significant, saving approximately 37 million tons of carbon dioxide in the U.S. annually. In Irvine specifically, transportation accounts for over half of the City's GHG emissions, and transportation is being improved to mitigate this. 
Although implementation for these plans are still in the works, students have access to other transportation options. OCTA's ongoing Youth Ride Free program allows all students under 18 to ride all OC Bus Routes for free. Students can also receive a 25% discount when purchasing Metrolink tickets. 
The City's Transportation Commission is set to publish their final report by the end of 2022. For more information, community members can watch Transportation Commission meetings live via Zoom or read the agendas posted to the City of Irvine website. 
"What the City of Irvine is trying to do is to be flexible, innovative and adaptable to changing community needs," Hansen said. "If public transit was better, more people could get around without the expenses of owning a car. It can provide more freedom to the residents."