Embracing creativity through writing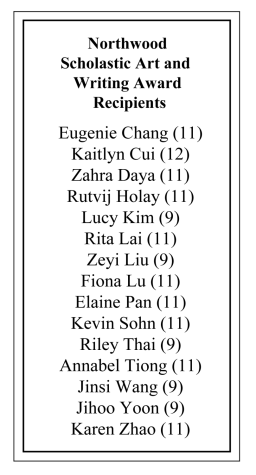 Artists and writers at Northwood received recognition in the 2022 Scholastic Art and Writing Awards, demonstrating their writing talents that often go unnoticed during the school year. 
The Scholastic Art and Writing Awards, spanning from December 2021 to February 2022, is an annual competition that allows for teens to express their creativity through original work. Students can enter in a total of 28 categories, ranging from critical essays to digital art and even jewelry, in order to gain three types of distinction at the regional level: the Gold Key, Silver Key and honorable mentions for each category. 
Northwood students entered in mostly writing events such as critical essays, poetry and science fiction, earning seven Gold Keys, 10 Silver Keys and eight honorable mentions. Beyond the awards, Northwood students enjoyed the literary freedom that came with entering the competition, enabling them to unleash their creativity to the fullest. 
"I think the process was a lot more enjoyable when I started writing for fun rather than receiving an award," Gold Key winner junior Elaine Pan said. "I brain dump everything I want to write about on a piece of paper, and start writing to see where my mind takes me. Sometimes I end up with multiple versions of submissions because my ideas develop in different ways."
And these different developments are well catered to due to the Scholastic Art and Writing Awards' broad variety of categories, letting applicants display their talent in ways that best suit them. 
"In English classes, we have to follow super strict academic guidelines and mainly write essays, so it was super refreshing to be able to venture out of that category, both in writing style and topic," Silver Key winner senior Kaitlyn Cui said. "Poetry is such a liberating genre that encourages writers to break out of their comfort zone, embracing unconventionality."
Another aspect where traditional English and history classes often fall short is in student expression. Writing about the American Revolution and Macbeth can help students solidify writing techniques, but the constricting structure of in-class essays and document based questions  prevents students from creating around their passions and interests. On the other hand, creative writing allows students to speak and create discussion over topics that mean the most to them. 
 "A lot of the poems I wrote for the competition centered around my passion for social justice, a topic that I otherwise wouldn't be able to explore through writing at school," Cui said. "There's 28 categories you can compete in, from fashion and industrial design to writing science fiction; You'll grow not just as an artist or writer, but you'll also strengthen critical thinking and your personal voice."
The National Awards will be announced on March 23, as Gold Key recipients hope to receive a Gold or Silver Medal as well as scholarship awards.