A dive into The Weeknd's new album "Dawn FM"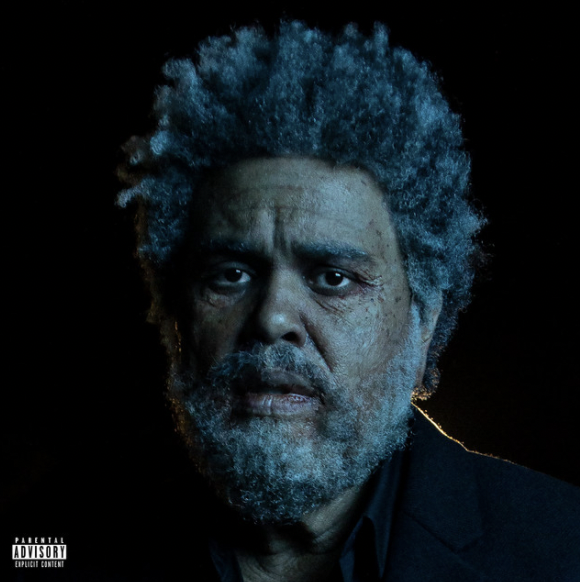 Charged with epiphanies on time and death through candlelit ballads and cruising synths, "Dawn FM" is truly a testament to Abel Tesfaye's genius musical artistry. Tesfaye, known professionally as The Weeknd, carries listeners on an '80s R&B and disco pop journey on his fifth studio album. "Dawn FM" is conceptualized as an imaginary radio experience in the afterlife narrated by Jim Carrey. Easily recognizable for his lush, nostalgic songs, The Weeknd explores escapism and tragedy along with familiar themes of loneliness and melancholy throughout his 16-track album. 
Enveloping listeners with a hypnotic synth in "Less Than Zero," The Weeknd  experiments with smoldering rhythms in the most effortlessly thrilling song of the album. Here, he sings "I couldn't save you from my darkest truth of all" about a relationship he ruined with his nihilistic tendencies. Deeply comforting, the song ascends away from reality into a space where The Weeknd is able to forgive himself for his past wrongdoings. While the lyrics are quite repetitive, it is an escapist piece that showcases his unwavering versatility even with unfamiliar genres. 
"'Less Than Zero' was definitely my favorite song from the album," senior Danny Kim said. "I felt like the unifying quality of the album was a subtle sense of melancholy, and that was really present in this song."
However, the most decadent moments on "Dawn FM" are those when The Weeknd is ripe with introspection. "Here We Go… Again" with featured artist Tyler, the Creator is the strongest example of this. He and The Weeknd drench listeners in nostalgia with an old-school love ballad, speaking about a kind of romance that unnervingly feels all too familiar. Harrowed by a tormenting past, Tyler, the Creator repeats the line "you gon' sign this prenup" four times in a desperate effort to protect himself against deception. Here, The Weeknd's vocals lead the buttery song into one of the most conceptually-driven songs, even without the excitement of upbeat synths. 
"I liked the new direction he took with this album. It felt like a whole experience instead of a couple songs arranged together," junior Ronin Clarke said. "It had a strong unified narrative voice and theme compared to his older albums."
The themes woven throughout the album are representative of the cover artwork. The Weeknd is pictured face-on with grey hairs and wrinkles, caught distraught and at least twenty years older than his present state. Addressing his fear of the future along with the haunting nature of the past, The Weeknd attempts to settle his self-destructive tendencies as well as help encourage listeners to focus on what's within their control. However, despite the album's symbolic objectification of the future, its experimental nature lends itself away from his traditional pop discography and is likely to be less radio-friendly and palatable for an outside audience. 
"Dawn FM" submerges you. A stunningly cohesive project, the album demonstrates The Weeknd's lyrical brilliance and defines his musical style. He is humanized through the album's exploration of his internal conflict and he is more self-reflective than ever before.