(Pa)Til the end: Freshman Aaryan Patil continues his fencing journey
For some, the word "fencing" conjures up nothing more than vague memories of Inigo Montoya and his excessively violent greetings. But for freshman Aaryan Patil, it means electric gear and late-night practices. It means running "suicide" drills until you feel like you might actually die. And, more recently, it means becoming one of the nation's top eight fencers in his age group at the October North American Cup.
A total of 94 fencers showed up to the October NAC. The first national tournament of the fencing season, NAC was a great chance for Patil to show off his gains from the off-season and also test out some new tactics.
"It's pretty nice to see all my work pay off once in a while," Patil said. "Last year was a really challenging season with COVID-19 and all, so I'm happy to be back and in good shape to start off this season,"
One of his teammates, Gian Dhingra, was responsible for translating their Spanish coach's words for Patil during the tournament. While it may have been disconcerting for some, Patil adapted smoothly.
"He was completely focused and absorbing all the information," Dhingra said. "It could have been at least a little confusing with all the translation, but I could tell that he didn't care and was solely concentrating on how to win."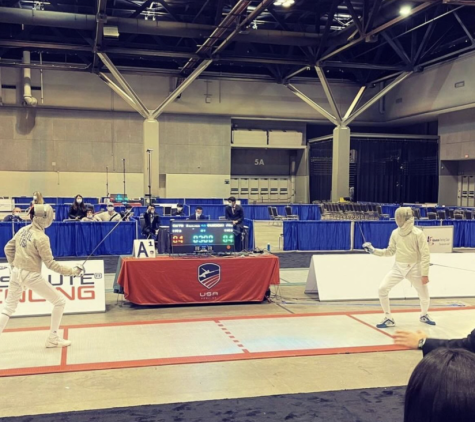 But this concentration wasn't just there from the beginning. As it so happens, Patil's journey began from Indian networking. A close family friend had been fencing for quite a while, and had even begun to achieve national success on his own. After some conversations and research, Patil, then a fifth grader, found himself on the fencing strip.
"I wasn't really sure what I was doing because the rules were kind of complicated," Patil said. "It was hard for me to understand that fencing wasn't just rushing and clashing with the opponent like in the movies, and I still have some trouble with that today."
Patil steadily progressed over the years, following rigorous conditioning routines set by his coach and training his footwork. Eventually, he even began to develop a unique style of fencing. Generally, fencers try to start aggressively in order to overwhelm the opponent and score. Patil took a different approach.
"I just kind of go in slowly with control," Patil said. "There isn't really any huge benefit to rushing once the opponents get older and faster, so I just wait for a small mistake that I can take full advantage of."
Clearly, with that strategy has come success. However, his willingness to embrace novelties has also been a huge part of Patil's explosive start to the fencing season.
"He's always trying out new things in practice, like distracting me with his other hand, doing a jump parry or shimmying around to feint," fencing teammate Justin Tann said. "He's always in the mindset of problem solving, and that's really inspiring to see just from a teammates' perspective."
Patil plans on using his top finish as encouragement for his fencing journey.
"The tournament was really revealing," Patil said. "I know what I need to work on, and I know what I did well. That's pretty much the best thing I could ask for at this point."