Media influencer Vera Vlasova redefines Carpe Diem
A typical weekday for senior Vera Vlasova includes the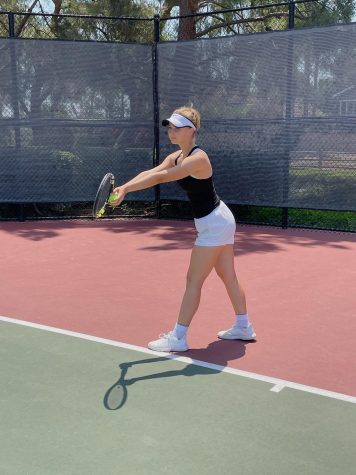 following activities:
6 A.M.: Wake up
6:30 A.M.: Gym
8:00 A.M.: Social media work, breakfast
10:45 A.M.: School (finish homework before classes end)
2:30 P.M.: Tennis game
7:00 P.M.: Get home, dinner
9:30 P.M.: Piano practice
11:00 P.M.: Singing practice
12:00 A.M.: Lights out
With over 72,000 followers on Instagram, 6,000 subscribers on YouTube, an online store and an unmatched work ethic, Vlasova is an up-and-coming social media influencer who centers her content around self-development. On Instagram, she's cultivated a growth-oriented community while sharing her daily activities and life lessons encouraging productivity and reflection.
She traces her start on social media to funny YouTube videos she created for her friends and family when she was 11 years old. Since then, a lot has changed. For one, she found her niche in self-development after reading self-help books, sparking the growth of her accounts earlier this April. This is a glimpse into the motivational messages she shares with others:
"Death doesn't scare me, but not reaching my full potential does."
"Motivation comes and goes. Discipline is forever."
"Laziness kills more dreams than failure ever will."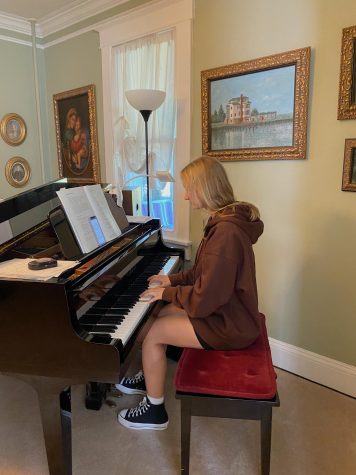 As high school is often characterized by stress and anxiety, Vlasova's advice on maintaining mental health consists of three main points: sleeping, exercising and creative hobbies and outlets. Born in St. Petersburg, Russia, she moved to Irvine in 2013 for greater educational opportunities, and now she is sure to make the most of every occasion that is given to her. In fact, her first piece of advice to Northwood students is to utilize the opportunities present.
"There are thousands upon thousands of opportunities to be taken and created, especially given the freedom Northwood provides for students to engage in many activities off campus," Vlasova said.
Her appreciation for opportunities has been a continuity throughout her life, providing her with an accumulation of experiences to shape her mindset today.
"Self-development has always been a part of my life, but I've channeled it differently over time," Vlasova said. "When I was younger, I would study a lot, get good grades and put a lot of effort into school. Then, when I started sharing my journey online, it inspired me to expand to fitness, music and other interests."
However, this journey was not free of obstacles, as popularity online inevitably leads to newfound difficulties.
"I'm very particular about my message because everything I do is centered around whatever I want to express in the moment. It's very frustrating when my content is misinterpreted, or people only focus on a single aspect of what I'm trying to say," Vlasova said. "But I realized over time that there are as many opinions as there are people, and everybody has a right to their own."
For Vlasova, this is just the beginning. Her next chapter will begin after her early graduation in January to jumpstart her focus on music. After all, she's an aspiring singer, songwriter, and performer and musician with a goal to hold the biggest concert in the history of concerts on June 25, 2029. Until then, we can tag along her journey through her Instagram @veranothing and YouTube channel Vera V.