A promising future for Call of Duty
Activision's "Call Of Duty" has been a strong contender in the first-person shooter gaming scene since 2003, making it one of the most successful video game franchises of all time. In recent years, however, the game faltered, struggling to make headlines and hold constant player counts. But as "Call of Duty" saw a steady decline in players due to trite gameplay, Raven Software and Infinity Ward won the pandemic lottery with their new game, "Call of Duty: Warzone." Following a successful launch, Activision steered the game to even greater success with its recent Season 3 update despite earlier concerns over playability and cheating, paving the way for what appears to be a promising future for "Call of Duty."
Prior to the recent update, "Warzone" lacked an anticheat, updates and a balanced power system, causing many players to return to tried and true battle royales, like "Fortnite" and "Apex Legends," or even newer games like "Valorant." Players took their grievances to TikTok and other social media platforms, including streamer Vikram "Vikkstar" Barn who looked to address issues with "Warzone" on Twitter.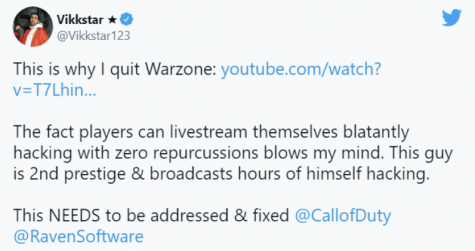 Luckily, the Season 3 update of "Warzone" this April brought the game back to life. To start, "Warzone" has made significant balance changes. The weapon attachment descriptions are no longer misleading and now match in-game function, making the loadout aspect of the game much more enjoyable. As well as working guns, there is no longer a clear Most Efficient Tactic Available, or META, to win and have success with. Even with the plethora of guns that were present in the game, a maximum of two or three were viable before the update. But now, players are comfortable exploring and experimenting with new guns to see what works for them, adding diversity to the game. 
In addition to revising the game's weaponry, the company has taken huge strides in providing meaningful, reliable updates and patches to help players understand the changes being made to the game. For example, after the Sykov pistols were deemed broken and overpowered, it only took the developers a couple of days to fix it, compared to the past when it would have taken weeks or even months. 
Most importantly, the map feels invigorating. After months of playing on the same dull, mundane map, it feels exciting to play on new grounds, with new places of interest and terrain that is far more pleasing to the eye. The addition of classic characters like Rambo and "Die Hard"'s John McClane also comes with exciting buildings like Nakatomi Plaza. After the update took us back to the 20th century, the 1984 version of Verdank is far nicer to play.
As more and more people come back to play the game, "Warzone" is showing signs of longevity and entertainment for years to come. Raven Software has also started looking into an Anti-Cheat and has banned over 500,000 hackers to date. Activision aims to integrate "Warzone" with "Call of Duty" multiplayers in the future as well, like the upcoming "Call of Duty: WWII Vanguard," meaning new, exciting content everytime a new edition of Call of Duty releases. With all these recent improvements, "Warzone" definitely won't be losing players any time soon.