Start-Up: Struggles and Successes of the Netflix drama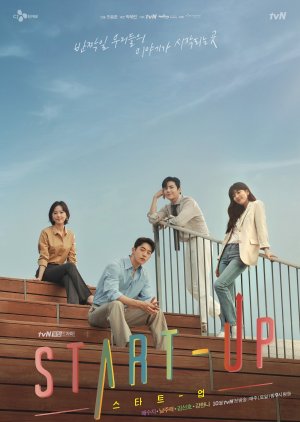 Navigating through struggles and triumphs with success, love, family and more, Netflix's new Korean drama "Start-Up" tells a tale of entrepreneurial ambition in Korea's cutthroat tech industry. The show is currently streaming on Netflix, where new episodes are released every Saturday and Sunday at 7 a.m. PST from Oct. 17 to Dec. 6.
In a crossover more ambitious than "Avengers: Infinity War," the series consists of Bae Suzy, a former member of K-pop group 'Miss A' who also starred in K-dramas like "Vagabond" (2019) and "While You Were Sleeping" (2017); Nam Joo-Hyuk from "Weightlifting Fairy Kim Bok-Joo" (2017) and award-winning movie "The Great Battle" (2018); "Catch The Ghost" (2019)'s Kim Seon-Ho and Kang Han-Na from "Designated Survivor: 60 Days" (2019).
Beginning in protagonist Seo Dal-mi (Bae Suzy)'s childhood, she and her sister Seo In-Jae (Kang Han-Na) part ways after their parents' divorce. While Dal-mi struggles through poverty with her father and grandmother, In-Jae gets to experience a life of wealth and privilege when her mother remarries and brings her to America. Dal-mi's grandmother also looks after homeless orphan Han Ji-pyeong (Kim Seon-Ho), and he becomes Dal-mi's secret pen pal under the name of math prodigy Nam Do-san (Nam Joo-Hyuk). Fifteen years later, Ji-pyeong is a successful self-made businessman, while Nam Do-san owns a stagnant artificial intelligence startup company with his two friends. As adults, Dal-mi, In-jae, Ji-pyeong, and Do-san's paths collide as they become involved in a startup accelerator called Sandbox, and Ji-pyeong and Do-san vie for Dal-mi's love. 
Episodes span around an hour and 20 minutes, following the story structure of a film while accommodating the show's quick pace and vast emotions. So far in the story, the character development and relationship progressions have been phenomenal, having complex personalities with backstories that bring about morally ambiguous characters. The show takes on elaborate topics like overcoming regret and insecurity all while starting a tech company. Although the main characters' personalities are largely unique, the drama was not able to escape the stereotypical K-drama tropes, including an unrealistic love triangle, inflated romances and worst of all, cliché slow-motion romance scenes.
Regardless, the actors are extremely talented in conveying the rollercoaster of emotions in each episode, and the (translated) screenplay incorporates a perfect balance of earnestness, excitement, humor and despair. 
In more technical aspects, Sandbox is equivalent to America's Y Combinator—except extremely oversimplified and sometimes inaccurate, as Dal-mi was somehow able to impulsively enter an accelerator with little to no preparation beforehand. In a show centered around entrepreneurship, business and technology, you're able to gain a surface-level understanding of key business terms from text overlays explaining machine learning, venture capitalist, angel investor, funding round, etc., yet they just feel like random buzzwords the screenwriters threw in to sound legitimate. 
The biggest takeaway from the show's first ten episodes is that Han Ji-pyeong is one of the most likeable K-drama characters of all time, and as the end of the drama approaches, we're prepared to binge watch but equally unprepared for the inevitable second lead syndrome, where the second lead character sadly never ends up with the girl.