Thanksgiving Recipes
Erin Kim, Accent Editor
November 23, 2020
Although the hustle and bustle, toasty family gatherings and communal traditions of Thanksgiving may not look the same this year as many celebrations transition to virtual dinners, one thing remains the same: food. What's not to love about Thanksgiving's savory comfort food and candied desserts? The Howler has hand-picked five of the most delicious, top-rated Thanksgiving recipes for you to try this upcoming week. 
Mashed Potatoes: Famed as the most versatile food, potatoes are great baked, as french fries and even waffles. But don't overlook the traditional, creamy mashed potatoes! Courtesy of "Tasty," this recipe will make enough for four!
Ingredients: 
2 lb yukon gold potato

½ cup whole milk

½ cup heavy cream

8 cloves garlic, crushed

½ cup unsalted butter, cubed, cold

2 teaspoons kosher salt

freshly ground black pepper, to taste

chive, finely chopped for serving
Instructions:
Peel all of your yukon gold potatoes, and place them in a bowl of cold water after peeling to avoid discoloration.

Chop the potatoes into 1-inch cubes.

Add the potatoes to a large pot and cover with cold water. Bring to a boil over high heat, then reduce the heat to low, simmering for 12 minutes.

In a small saucepan, bring the milk, heavy cream and garlic to a simmer over low heat.

Remove the pot from the heat and strain the cream through a fine mesh sieve.

Drain the potatoes in a colander and transfer back to the pot.

Mash the potatoes with a potato masher.

Add the cubed cold butter and salt, stirring to combine.

Gradually add the cream mixture to the potatoes until fully incorporated.

Top with freshly ground black pepper and sprinkle with chives.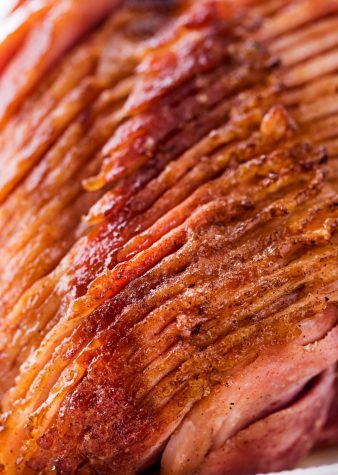 Homemade Honey Baked Ham: This recipe from "the Chunk Chef" is to die for. You just can't go wrong with tender, smoky ham topped with a sweet glaze. Save your $75, and make your own Honey Baked Ham. Trust me, it's not as daunting as it seems!
Ingredients:
8 lb bone-in spiral sliced half ham

2 tbsp butter, melted

3 tbsp honey

1 1/2 cups granulated sugar

1/2 tsp seasoned salt

1/2 tsp onion powder

1/2 tsp ground cinnamon

1/2 tsp ground nutmeg

1/4 tsp ground ginger

1/4 tsp ground cloves

1/4 tsp paprika

pinch of allspice
Instructions:
If warming in the slow cooker, trim ham to fit. If you'll be warming the ham in the oven, skip this step.

Combine butter and honey, and then massage into ham. Massage some in between slices.

Cover the ham and cook on LOW for about four hours. Again, this is for warming the ham in the slow cooker—skip this step if warming in the oven.

Combine sugar, seasoned salt, onion powder, ground cinnamon, ground nutmeg, ground ginger, ground cloves, paprika and allspice in a small bowl. 

Pat half of the previous mixture on the warmed ham, then broil for a few minutes (until bubbly and slightly caramelized). Then remove from the oven.

Add the remaining dry mixture to a small saucepan with 3 tbsp of water or ham juice. Heat this mixture to a boil, and boil for about a minute. Then, brush or pour this glaze over the ham.

Broil the ham again just for a minute or two, being careful not to let it burn.

Let the ham rest at room temperature for about five minutes for a classically crackly crust.
Cranberry Sauce: Ditch the store bought, canned hello-like cranberry sauce, and opt for some sweet homemade goodness. There's nothing more simple: only three ingredients and three steps! This "Allrecipes" cranberry sauce makes enough for 11 servings. 
Ingredients:
3/4 pound cranberries

1 cup white sugar 

1 cup orange juice
Instructions:
In a medium sized saucepan over medium heat, dissolve the sugar in the orange juice. 

Stir in the cranberries and cook until the cranberries start to pop (about ten minutes).

Remove from heat and place sauce in a bowl. Cranberry sauce will thicken as it cools.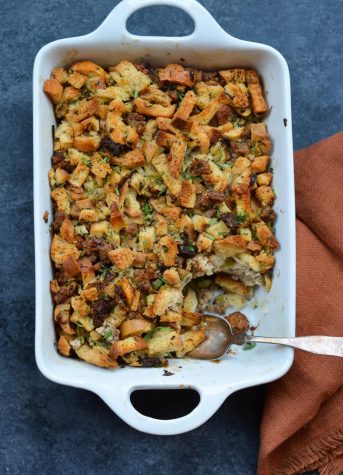 Sausage and Herb Stuffing: This flavorful dish brings back cozy Thanksgiving memories; all the nostalgia for the warming family gatherings of the past and worry-free state of mind. The following top-rated recipe from "Once Upon a Chef" features savory Italian sausages and crispy, golden bread cubes.
Ingredients:
8 cups (400g) store-bought unseasoned stuffing cubes

1 stick (1/2 cup) unsalted butter

1-1/2 cups diced yellow onion 

1 cup diced celery 

4 garlic cloves, finely chopped

1 pound bulk sweet Italian sausage 

2-3/4 cups low sodium chicken broth

1 large egg, beaten

1 tablespoon fresh chopped rosemary

1 tablespoon fresh chopped sage

1/4 cup fresh chopped parsley

1/2 teaspoon salt

1/2 teaspoon freshly ground black pepper
Instructions:
Preheat the oven to 350°F, and grease a 9 by 13-inch baking dish with butter.

Place the stuffing cubes into a large mixing bowl.

In a large sauté pan, melt the butter. Add the onions and celery, and cook over medium heat, stirring occasionally, for about eight minutes or until the vegetables are soft. Add the garlic and cook for two more minutes. Add the vegetables to the stuffing cubes. Make sure you scrape out every last bit of vegetables to avoid burning in the next step.

In the same pan, cook the sausage over medium heat for 8-10 minutes, until browned and cooked through, breaking up the sausage with a metal spatula while cooking. Make sure there are no pieces larger than 1/4-inch. Add the browned sausage and fat to the bread cubes and vegetables.

Add the chicken broth, egg, rosemary, sage, parsley, salt and pepper to the bread cube mixture, and mix until the bread is soft. 

Transfer the stuffing to the prepared baking dish and bake for 65-75 minutes, uncovered, until deeply golden and crisp on top.
Pecan Pie: Pumpkin pie is overrated: we spend every moment of fall obsessing over everything pumpkin—pumpkin spice lattes, pumpkin cheesecake cookies, pumpkin spice rolls—and we often forget about the other Thanksgiving traditional desserts like pecan pie. "Allrecipes" shares a perfected Southern recipe for this irresistibly rich, crunchy pie.
Ingredients:
1-3/4 cups white sugar

1/4 cup dark corn syrup

1/4 cup butter

1 tablespoon cold water

2 teaspoons cornstarch

3 eggs

1/4 teaspoon salt

1 teaspoon vanilla extract

1 cup and 2 tablespoons chopped pecans

1 (9 inch) unbaked pie shell
Instructions: 
Preheat the oven to 350℉.

In a medium saucepan, combine the sugar, corn syrup, butter, water and cornstarch. Bring to a full boil, and remove from heat.

In a large bowl, beat eggs until frothy, but take care to avoid overbeating. Gradually beat in the cooked syrup mixture. Stir in salt, vanilla and pecans, and pour the filling into the pie shell.

Bake for 45-50 minutes, or until the filling is set.