College recruiting during COVID-19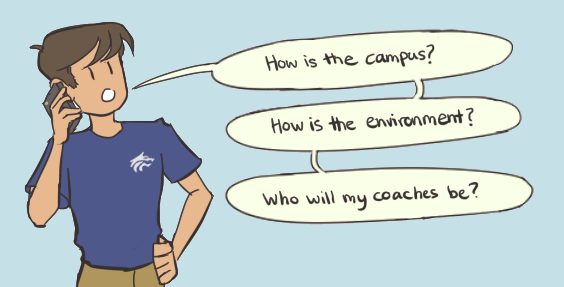 College recruitment season is in chaos: The COVID-19 pandemic has thrown the sports landscape into limbo, casting uncertainty for prospective collegiate athletes as scouting undergoes a massive change.
Previously, college scouts would attend live games to evaluate each athlete's work ethic and skill, both on and off the pitch. With the Fall 2020 athletic season postponed or possibly even canceled, high school juniors looking to rack up achievements or seniors seeking to remedy a past season's lackluster performance are unable to showcase their talents for college coaches, who value junior and senior season play. College coaches are currently relying on uncut game film, transcripts, test scores, as well as social media connections, to determine recruits, causing many fans to question the effectiveness of the protocol since there is no definitive recruiting protocol among colleges. Prospective Men's Tennis collegiate athlete senior Cory Pham feels that this will definitely affect his recruiting perspective.
"I think the process is now more involved since athletes will have to rely on high school coaches to put in a good word for them," Pham said. The changes in college recruiting are also an indirect consequence of the National Collegiate Athletic Association (NCAA)'s implemented changes to the 2020-2021 college season. With the cancellation of non- conference games, gaping holes will appear in athletic budgets. Simply put, colleges will cut non-revenue sports programs, since many programs are now subsidized, providing fewer landing spots for recruits. Additionally, sports leagues such as Major League Baseball, have reduced the number of draft rounds, resulting in many prospective professionals remaining at school and fewer roster spots for incoming freshmen.
An unexpected product of the situation has been an influx of athletes to community college athletic programs, where players have the opportunity to impress college coaches, scouts, the training facility and other members of a college athletic faculty at their leisure.
"We are excited to have the support of the California Community College Athletic Association (CCCAA) to implement a plan to bring sports back with modifications," Los Angeles Pierce College Athletic Director Susan Armenta said. "The competition revival is great for our program and other CCCAA programs nationwide."
Meanwhile, future collegiate athletes are using the quarantine to maximize their performance, both physically and mentally, since college scholarships are currently the hottest commodity in sports.
"I see the current recruiting sequence, and the current protocols, as a wakeup call," Pham said. "I have to work twice as hard to keep my scholarship, since I know there is someone just as talented fighting for mine."