A euphonious future
Playing an instrument requires a lot of commitment, dedication and passion, but Northwood senior Kate Jensen makes it look effortless. She can be seen on campus (when we aren't in quarantine) playing trombone in Northwood's Marching Band, Jazz 1, pit orchestra and Chamber Winds. After continuous participation in Northwood's Instrumental Music Program, Jensen will study trombone performance at California State University, Long Beach and plans to pursue a career as a professional trombonist.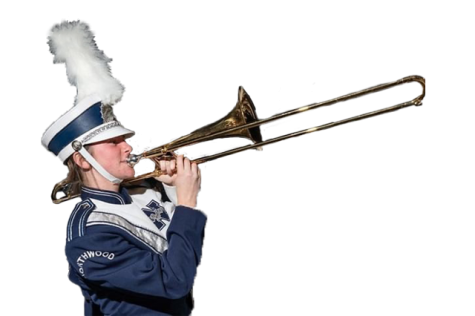 The Howler: How did you choose your major?
Kate Jensen: I decided to major in music when I started high school. It was always a part of my life and I wanted to continue with it. I originally wanted to major in euphonium performance, but I was exposed to playing more trombone through jazz, Chamber Winds, and Marching Band. It gave me more opportunities to play music and I hope it will lead me to more opportunities in the future.
TH: What led you to play trombone?
KJ: I started playing the trombone in 8th grade because I played euphonium for jazz and figured I needed to learn trombone to fit in better with the section.
TH: What are some difficulties you have faced as a trombonist?
KJ: A big struggle I faced while playing trombone was the switch from euphonium to trombone. For some time, I would change my embouchure while playing trombone instead of going to the correct position because that is how you get a note in tune while playing the euphonium. It took some time to develop my ears and get used to altering the positions rather than my mouth.
TH: What do you think is the best part about playing the trombone?
KJ: The best thing about playing trombone was being able to find a strong community through Marching Band and being able to be a section leader or role model to many colleagues–much of which I have learned from the leaders before me.
TH: Where do you see yourself in the next several years?
KJ: After college, I would like to find a professional orchestra or symphony to join. It would be a dream come true to play in the Long Beach Symphony with professional players around me to learn from.
TH: How has music changed your life?
KJ: Music has become a support mechanism for me. There have been some times in my life where I have felt lost, but knowing that I had music made me able to get back to my normal self. There is always a song that gives you a certain feeling. You can have happy songs, sad songs or anything in between, and having those songs in my life has built me to be more understanding of my emotions. I rely on music so much that without it, I think my life would be bland.