Charmed: finding luck in life
St. Patrick's Day has traditionally been a holiday to wear your brightest greens and celebrate Irish heritage (whether you have any or not), but for Northwood students, it is less about harnessing the luck of the Irish and more about finding the luck to manage school stress. Even if we're not chasing leprechauns or searching for pots of gold, lucky charms are more than just a cereal. 
"My lucky charm is a Sumikko Gurashi, the white polar bear, that's on my backpack," senior Matthew Halim said. "Whenever I'm stressed, I usually squish him because he's super soft, and it helps me de-stress."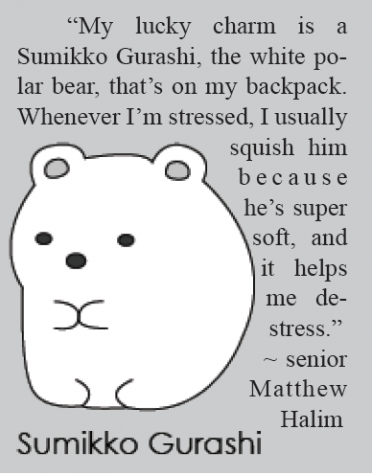 "My lucky charm is a cross ring that I wear everyday because I'm Christian and it's a part of my faith," senior Christian Singh said. "I feel like if I forget to wear it, I'll have a bad day. Luck is a good vibe or energy that helps you do well with whatever you are doing in your life." 
"During every math test, I put a mini porcelain cow on my desk for good luck," sophomore Sarah Hsu said. "My little sister gave it to me as a gift, and keeping her in my mind helps me try my best. Luck is definitely more about the mindset that you have towards the object because if my sister didn't give it to me, I wouldn't be using it."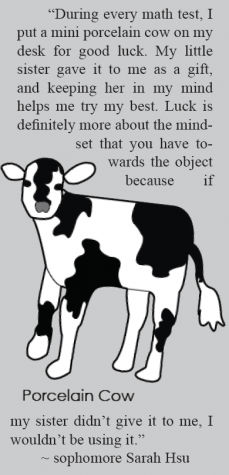 "My lucky charm was a pencil from second grade," freshman Nikki Doiphode said. "It meant a lot to me because there was this one time where I got 100% on the timed multiplication test. Looking back, I realize that if you study hard, work hard, you'll achieve what you want to achieve."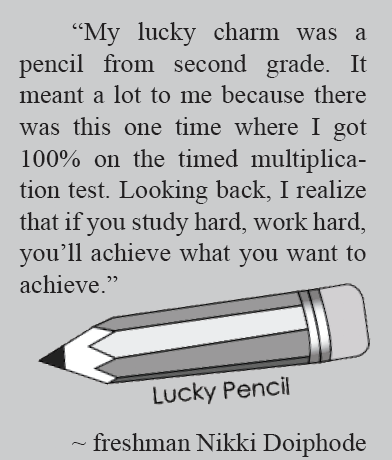 "I don't really associate objects with luck," sophomore Surya Subbarao said. "For me, luck can be as simple as winning a card game or something as big as getting an opportunity to do something that you couldn't have done before. But, luck also includes things that are completely out of our control, such as the family or society we were born into. Luck is when you have a perception that makes you more confident in yourself." 
As we reach the end of the year, it's a good thing to remember that luck is not exclusive to the objects in our lives that hold meaning. Luck can also be found in the people around you, your friends that love you and, most importantly, in yourself if you believe you can do something. So, happy St. Paddy's Day, Northwood! We hope it's a day filled with luck.