Battle of the fashion trends: 2019 edition
Every year new crazes hit the streets, and 2019 was no different. With Northwood being no exception, unique styles have swept onto campus and disappeared just as quickly thanks to popular apps such as TikTok and Instagram. To show some of these most popular styles, here are a few fashion trends that have Northwood students feeling and acting like models.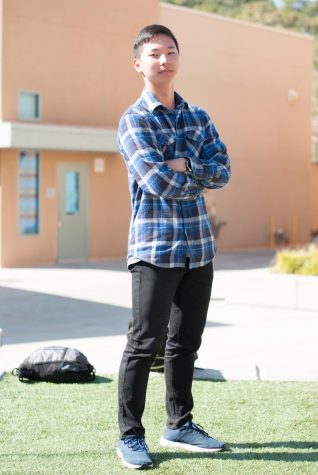 1. The Middle Part
Just as the name suggests, the middle part is a men's style where the hair parts down the middle, showing off your forehead like Keanu Reeves in the John Wick franchise. Ironically, sporting the middle part gives off a unique flair of sensitivity and cool-headed confidence. One key tip to pulling this look off is to keep your hair natural and flowing. Avoid using any type of hard gel that can spike up your hair or make it straighter than it should be.
2. Windbreaker Vest
When the winds get vicious, you need something to protect yourself. The Windbreaker Vest is built to keep your core warm and your arms free to power through the winter. Underneath the vest, protect yourself with a long-sleeved shirt or sweater.
3. Scrunchies
These are no longer just for tying up your hair! Now we put them on wrists… and hydroflasks. Ain't that neat? Scrunchies are usually affiliated with an outgoing or studious style.
4. E-boy/E-girl look
For those of you eager to make an online presence, the e-boy/e-girl look has recently caught on thanks to social media. For guys, this look requires black-painted nails, chains, beanies, dark clothes and striped long-sleeves. For girls, the apparel is mostly the same with an exception of pink eyeshadow, little hearts drawn under the eyes and an over-blushed nose. This look might remind older generations of when goths were a thing.
5. Flannel
If you want to channel your inner working spirit just like back in the day, the flannel is the perfect fashion piece for you. A symbol of hard work and a deep connection with raw nature, the flannel can act as a light addition to your hoodie or sweater. Even better, tie the flannel around a plain white t-shirt to take your outfit to a whole other level.
Predictions
Trends depend heavily on other trends, and the trend during this time of year is graduating. Students are always graduating. Because of this, students are getting ready for colleges. It would seem logical that students will soon begin wearing college sweatshirts. And soon enough, seniors will soon be wearing the classic cap and gown to mark the end of their high school careers. That being said, be prepared for a large amount of end-of-high school merch.