Disney+ versus Netflix: which is the best streaming service?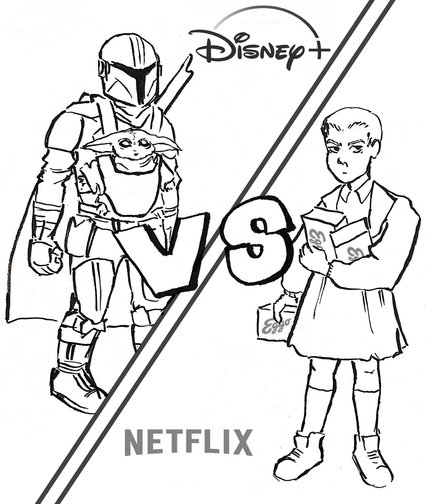 Nawal Abdul:
Disney+ may be the newest streaming service, but Disney is nowhere near new. We've all grown up on Disney, and all those amazing shows we've been begging Netflix to add for years? They're all on Disney+. You can watch them all on repeat, just like you did back in elementary school, and bask in the glory of childhood television.
But it's not just the old-school stuff that you can rewatch as many times as you want. It's the newest movies and TV shows from all of Disney's affiliates, like the Marvel and Star Wars franchises, which include some of the most iconic movies of the decade––all of which can only be found on Disney+.
Another benefit of Disney+ is its affordability. It's $6.99 per month for up to eight screens, not to mention all of their integration deals with specific companies (like Verizon customers, who get a year free), nowhere near Netflix's $8.99 per month for one screen, so you're getting more for less.
Disney+ has more content that we know and love, like spin-offs from the Marvel and Star Wars universes. While Netflix is gearing itself more towards its own original content, Disney+ is focusing on building its library of known and loved titles by purchasing distribution rights to shows like the Simpsons and more.
Overall, Netflix may seem like the superior streaming service as of now, but that's only because it's been running longer and has thus had a lot more time to build its reputation. In a few years, however, Disney+ will surpass Netflix in popularity as well as desirability.
Erin Kim:
Netflix has always been the best streaming service available, despite comparisons people have made to Disney+ due to social media frenzy surrounding its recent release.
The high subscription rate for Netflix correlates to the quality of its user interface; Netflix categorizes shows by specific genres, whereas Disney+ only has five broad sections. You're also paying for more titles with higher resolution, as Netflix has options to play movies and shows in 4K and Ultra-HD.
Netflix has a wider range of options, no matter if you enjoy horrors or comedies. Its 22 years as the most popular service allows it to provide hundreds of shows and full seasons. Netflix has been at the forefront of offering quality entertainment: it even has movies and shows produced in different countries.
Additionally, Netflix is accessible in more than 190 different countries. On the other hand, Disney+ is only available in four countries: the Netherlands, the U.S., Canada and New Zealand. Ultimately, Netflix allows travelers to stream their favorite movies and shows on its platform across 186 more countries than Disney+ does.
While Disney+ holds many blockbusters like the Star Wars franchise, these movies cannot keep up with Netflix in releasing such a large variety of new films and shows. After all, you can only watch a movie so many times before it becomes too predictable and boring.
Although both streaming services are enticing, at the end of the day, Netflix remains the winning streaming service.