"Mamma Mia!" hits the Northwood stage
Northwood's Theatre Department put on their annual musical, "Mamma Mia!" from Feb. 6-8. The production was months in the making, culminating in a welldelivered take on an iconic piece.
Senior Rachel McMullen took to the stage as the legendary character Donna, shining in one of her last Northwood roles.
"This one is extra special because I am a senior, so this is the last musical I will ever be a part of," McMullen said. "It will definitely be a sob fest."
The production's soundtrack was evidently the most carefully curated part of the performance, with each song carrying its own tone that blended into the acting seamlessly. Each song was also accompanied by a unique dance number, showing off Northwood's incredibly skilled VAPA Department.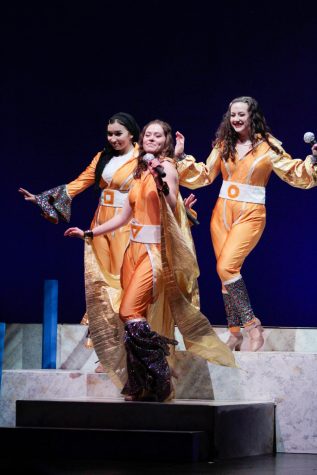 "The best part about working on the musical is the coming together and collaboration of all the different parts," Instrumental Music director Ben Case, who conducted the show orchestra, said.
The production also showcased the fashion and makeup talent present on campus. Each character got at least one costume change, including the ensemble cast, and they were mostly all delivered in a way that contributed to the hilarity of the iconic play. What's more, the wardrobe department outdid themselves by assigning the perfect costumes to every character.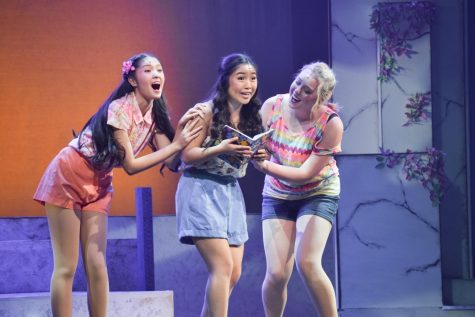 "Mamma Mia!" just isn't truly complete without its Greek vibe, which was beautifully rendered by the props crew. With intricate vines that decorated the fantastically built sets and lights that created a vacation feel, this particular musical offered a chance to highlight every part of the play-making machine, which the drama department seized effortlessly. "Props are integral to the set because the set dressing is really what gives the show character," senior Grace Cheng said. All in all, "Mamma Mia!" was delivered truly phenomenally, from its performances made by incredibly dedicated actors and actresses—like juniors Kaitlin Miranda and Jerry Chen and seniors Jeneen Elbershawi, Johan Obillos and Chris Kassir—to its well-thought-out costumes and wonderfully designed props. It did justice to a timeless story and a cherished soundtrack, complete with a '70s disco ball.