Thankful for these talented Northwood artists!
Erin Kim, Accent Editor
December 16, 2019
At the mention of the word "art," most people immediately think of classical Greek paintings and pencil sketches, but art encompasses a myriad of varying styles. As an artist's skilled and imaginative way of self expression, there is no limit to the forms that art can take, whether it be an abstract clay structure, a heart-tugging piece of poetry or a contemporary dance routine. There are such a variety of talents that some skills can be overseen. To showcase just a few individuals, here are a few Northwood students who are mastering their very own unique arts: filmmaking, animation and photography.
Senior Noah Sperakos
Noah Sperakos has been a filmmaker and photographer for about two years. Born into a family of athletes, he was the first one to make and change and take the artistic path. While filmmaking and photography initially began as an experiment, Sperakos realized that art was his one true passion. He chose to continue with visual arts because he wanted to document his experiences and reflect back on them later in life. Over the years, his artistic style has changed surrounded by the outdoors, his style was largely based off of nature but now that he lives in Irvine, he finds that his perspectives have completely changed. Sperakos is very proud of seeing the progress that he has made over the span of time that he has been pursuing film and photography.
Sophomore Danielle Leigh
Danielle Leigh plans to become an animation major and takes portfolio prep outside of school. Growing up, she was a big fan of cartoons and animated movies. Animation as a medium for films and TV shows has always fascinated her, as she feels that it can visually represent anything that reality cannot create and tell stories that resonate strongly with audience members. She sees herself working as a studio animator or a storyboard artist, primarily in 2D animations. Leigh draws inspiration from her surroundings, particularly concept art from her favorite movies and shows because she finds that it reveals other artists' creative processes and shows that any rough idea can turn into a favorite film or show that has the power to make an impression on viewers.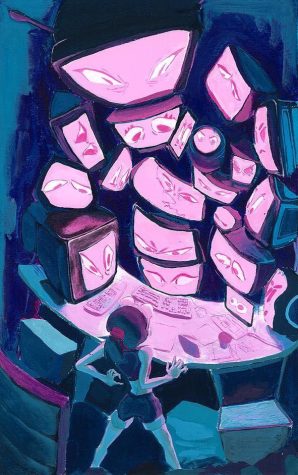 Senior Andrew Seidler
Andrew Seidler has always been interested in the idea of freezing a moment and making it timeless; photography allows him to express his creativity. The ocean serves as his greatest inspiration; growing up in Southern California has allowed him to go to the beach, finding himself happiest when he is shooting ocean waves. He often photographs nature, capturing the beautiful movement of water, serenity of sunsets and the richness of greenery.