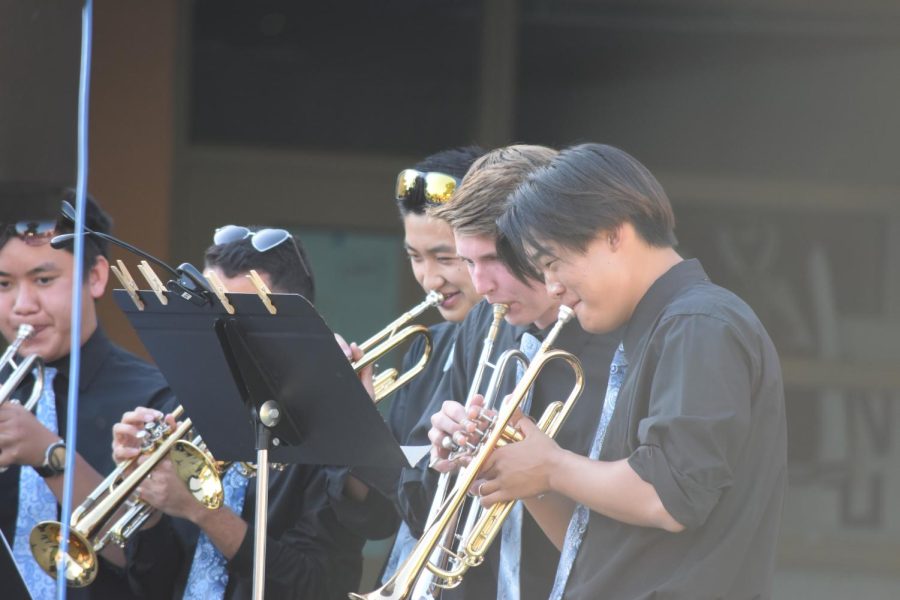 Northwood's musicians jazz up the night
Soft notes floated through the air on a peaceful Friday afternoon, providing a musical escape for Northwood students and parents alike. The jazz program starred at their annual Jazz at the Oak on May 13, filled with calming chords and surprise cameos.
Performers included all four Northwood jazz bands, as well as the Jazz 1 and 2 combos and the Sierra Vista Middle School jazz band. Notable performances included "Monsters Inc." performed by Jazz 2 Combo and "Uptown Funk" performed by Jazz 1. Marking the first Jazz at the Oak since 2019, the event was a celebration of a unique style of music that had been sorely missed.
"My favorite aspect of jazz is its relaxed and supportive environment. The style is built on improv and soloists usually make up their parts on the spot," Jazz 4 bassist senior Ritwik Kumar said. "During a solo, the majority of the band just sits back and enjoys the music, letting the soloist shine."
In addition to performances, food trucks were available for guests' enjoyment, as well as various raffles including the opportunity to play with Jazz 1, Disneyland tickets and a handcrafted ballpoint pen by none other than Instrumental Music Director Ben Case. These rewards, going along with swinging music, attracted guests from all across the Northwood community, creating a diverse and vibrant atmosphere.
"It's so special because it's outdoors and a lot of alumni come back as well as the middle school students, so there's a wide variety of people," Jazz 2 trombonist senior Thanos Syrengelas said.
Some of the highlights of the night included the jazz instructors playing alongside their bands. Sierra Vista jazz band director Henry Miller playing his trumpet with the Sierra Vista and Jazz I bands and Case joining Jazz 3 with his saxophone were just some of the teacher cameos, and an additional surprise appearance by Instrumental Music Director Whitney Tavlarides' husband playing drums with Jazz 1 enthralled the audience.
As the last major jazz performance of the year, the event marks the end of high school jazz for many of the seniors. However, the instrumental music program does have several concerts before the end of the school year, including the Pops Instrumental Concerts on May 18 and 19 and the Pops Gala Concert on May 20.