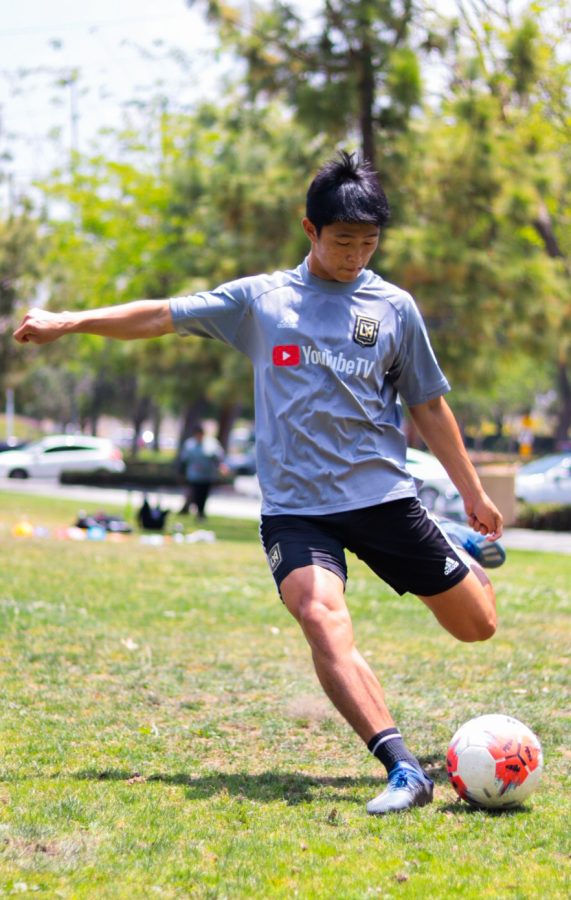 An interview with soccer star Paul Son
Enjoyed by nearly four billion fans globally, soccer has maintained its reputation for more than a century. Among the vast crowd of competitors, senior Paul Son has set himself apart, with extensive experience culminating most recently with membership on renowned teams such as Strikers Football Club and Los Angeles Football Club Academy. Now, presented with a momentous decision between continuing soccer with the United States Military Academy at West Point or professional soccer team Las Vegas Lights, Son reflects on his soccer journey.
The Howler: When did you know you wanted to pursue a career in soccer?
Paul Son: Growing up, I always told people I wanted to become a professional soccer player, but I was just a young kid with big dreams. Once I entered high school, I started to seriously consider it. It's a blessing I have both options right now, but it's also a hard decision. My parents want me to go to the college route because it's more secure. I want to go professional because it's been a lifelong dream of mine. We're still going back and forth, but we'll see in about two months.
TH: How have you pushed through obstacles you've faced? 
PS: I've had my highs and my many, many lows. I'm always fighting for a potential spot on a national team or a game. Sometimes, the coach will tell me that I'm not performing well and won't be playing that weekend, and those moments really hit hard and make me loathe soccer. My way to push through those times is to view where I am now from the perspective of when I was younger. It makes me proud.
TH: What's a moment you'll never forget in your soccer journey? 
PS: In ninth grade, I had one of my best seasons, and got invited out to a national team camp. But the day before the camp, I went out to Universal Studios with two of my friends, ate a bunch of junk and did not feel well the next day. When I was called up to perform, I didn't and fell short. I wasn't called back to go to the national team. It was a moment where I seriously considered quitting: I had worked so hard to get there, and it felt like I just blew it. It's always an internal battle, choosing between hanging out with friends and soccer, but that's a moment I'll never forget. It reminded me that even though I might have a little fun with my friends, I should stick to my practices, diet and sleep schedule. 
TH: What are the biggest lessons you've learned from soccer? 
PS: I know it's cliche, but believing in myself has gotten me through my doubts. I learned to put in work when others don't and that no matter how talented you are, if you don't push through obstacles and learn how to mature from mistakes and develop from criticism, you won't be able to grow. 
TH: What advice would you give to current student athletes?
PS: The balance between school and sports is hard. Northwood is definitely academically rigorous, and being strong both physically and mentally is tough. You need to decide what you're willing to sacrifice and how you want to allocate your time and energy, and from there, I think it comes down to discipline and focusing on what you want to get out of your activities.