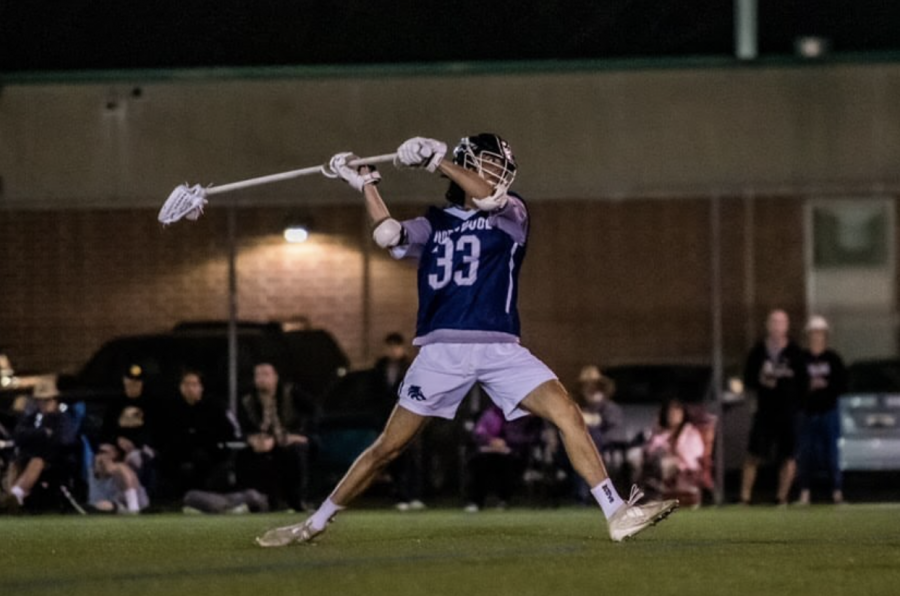 Ethan Koers becomes Northwood's first NCAA lacrosse recruit
Since discovering his interest in lacrosse six years ago, senior Ethan Koers continues to train for his last season with spirit and compassion. On the field, he often plays long-stick midfielder and exemplifies what it means to persevere for the rest of his team. His lacrosse experience tells a story of overcoming obstacles that eventually led to his acceptance from Whittier College as Northwood's first NCAA lacrosse recruit. 
The Howler: How did you begin playing lacrosse? 
Ethan Koers: I've been playing lacrosse at Northwood for three years and began playing in seventh grade. I played every sport and didn't really find one that fit for me, so my dad suggested lacrosse and we ordered a couple of cheap sticks on Amazon, and it was all history from there. 
TH: What would you say is different about lacrosse compared to other sports? 
EK: Lacrosse is more focused on the player's awareness and communication than the player's strength or athleticism. I think if you have game knowledge and know what's going on, you'll do pretty well, whereas for football, you kind of need to be big and strong to do well.
TH: Takes us through the process you go through before a game. 
EK: I watch this movie called "Three Hundred" by Zack Snyder that gets me pretty fired up. I listen to music, drink Red Bull and stretch; then I'm good to go. We show up to the game about an hour early and do team stretches, a lap around the field, work on our passing to get us warmed up and drills like man down defense to get our stick working.
TH: What motivates you to train?
EK: To get better every day. When I was first starting out, I was training every day for about three hours by myself just so that I could be the best at the sport. But I think the biggest motivation was knowing that if I didn't start getting good, in college, it would be a lot harder.
TH: Was there ever a time when you had to lead the team?
EK: Yes, this year definitely. We had a lot of injuries, and a lot of the seniors aren't playing because of the injuries. I wasn't captain this year, but I've just been playing that role and making sure everyone is on top of their stuff, working as hard as they can, because we're doing really well this season and we don't want to mess it up now.
TH: What has been a challenge that you've worked to overcome in lacrosse?
EK: I've played through multiple injuries. I've had countless visits to the doctor, just fighting through the pain, so I think the biggest challenge was probably to keep playing afterward. I dislocated my shoulder twice and I have a really bad groin injury right now, but I didn't want to miss senior season, so I decided not to get surgery for that.  
TH: When did you feel the most successful?
EK: I felt the most successful when I committed to Whittier College and signed my letter of intent. I was pretty excited. I mean, it was a long time coming—it's been my dream since I started playing lacrosse. Just me and my dad were really happy. He went to Whittier too, so he was stoked. That was when all the work paid off. I'm planning on majoring in history with a minor in business, and I want to do my post-grad in education. 
TH: How have your mentors, coaches and/or teammates played a role in your lacrosse experience?
EK: They've been the most supportive people throughout my entire journey. I've been with the Northwood head coach since I was in 8th grade, and he's always had me working the hardest. He always knew that I was going to make it somewhere, so he's always been super supportive. And my teammates are always challenging me, and they were just as excited as I was when I committed, so it's great to have such a tight-knit and close community at the team at Northwood. 
TH: Is there an athlete you look up to?
EK: My dad because he played basketball and he went through a lot of hardships on his way to get there. I think that reminds me that I need to keep working and I can't give up because he did it when all the odds were against him.
TH: How do you manage sports with school? Do you have any tips?
EK: I'm not very good at that, but if I need to miss a practice to finish some school work, I'll miss a practice because education is the most important part. I'm a student-athlete: You might be the greatest athlete in California, but if you don't have the grades, you're not going anywhere. When you remember that it's the grades that are going to get you places and then the athletics, you'll prioritize your school work.
TH: Do you have any advice for student-athletes at Northwood?
EK: My advice is you won't make it any further if you only practice at school practice. You got to practice at home and put in all of your time and energy into school and athletics.
TH: What kind of impact do you want to leave on Northwood as you graduate or even in your new time at Whittier College?
EK: As an impact to Northwood, I want kids to know that it's not impossible to come from an academic-based school and make it to college for a sport. Especially in lacrosse since we don't have a lot of kids doing that, and at Whittier, I want them to know that a kid from an academic-based school like Northwood can be one of the best kids on the team.