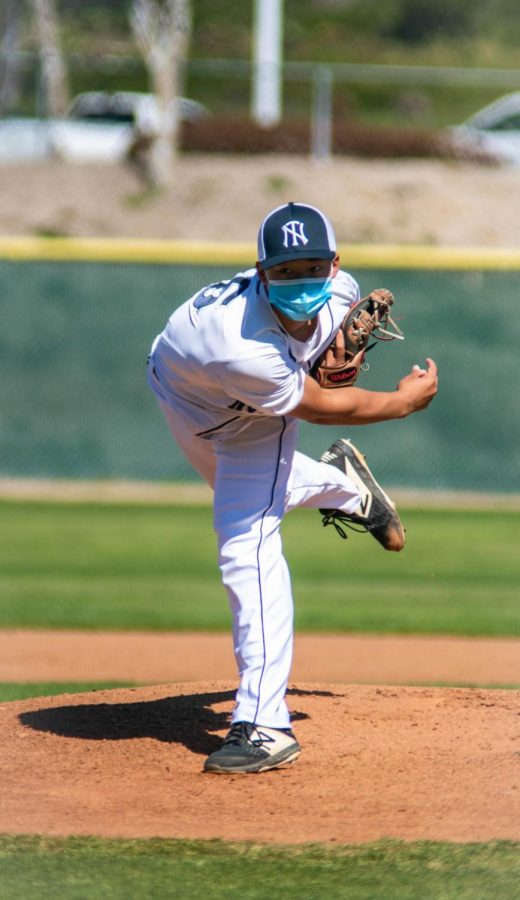 Batter up: A new season
Whiz—the baseball's sound as it flies through the outfield echoes amidst the bat crackling upon impact. The cheers from the dugout signal a dinger on the diamond. Northwood Varsity Boys Baseball teed off their season with a slow start but are looking to conclude their season on a high note. 
At the beginning of the shortened sports season, the team was hit with a string of injuries, forcing many players to learn new positions in the span of a few weeks. Despite the limitations brought by the pandemic, the players continued to hone their skills at home through wall ball fielding drills and catching practice, their only semblance of actual play. 
"Even though I've been on the team for the last three years, the adrenaline to start this season is something completely different," Varsity Baseball player senior Henry Jia said. "Irrespective of a win or loss, we remind ourselves that this is a great season to form lasting friendships with each other."
Once sports were given the green light to return, the team resumed its strenuous practices with consistent training. During the offseason, the team endured difficult three-hour practices that consisted of split field training and weightlifting. As the possibility of playing a season became a reality, the team shifted to scrimmage-like practices, the first dose of real competition in the past year. 
"The reps we get from practice allow us to be focused and relaxed on game days, so I think it is all worth it in the end," Varsity Baseball player senior Justin Nam said. 
The second regular season game against Irvine High School on March 23 was a defensive bounce-back game, following a devastating loss against Woodbridge High School the previous week. While Northwood strived to close the gap in the last innings, Irvine pulled away to win 6-1. 
"We are learning to be responsible for our own successes and failures to prepare for the next games," Varsity Baseball Head Coach Rob Stuart said. "I think the difficulties our players have gone through have definitely made them more resilient and they will benefit in the future both on and off the field."
The team faced local rival Portola High School in a hard-fought divisional ballgame on March 27. Both teams played stellar defense, fielding loose ground balls to ensure their offense got one more chance at bat. However, in the final innings, defensive lapses coupled with timely hits by Portola gave the Bulldogs the victory with a score of 4-2. 
The Timberwolves aim to erase their early season woes with their upcoming games against University High School on April 23 and Woodbridge High School on April 27. For the seniors, this is most likely their last ride as part of the white, silver and navy blue, and a few wins to close their high school chapter would certainly hit their final season experience out of the park.