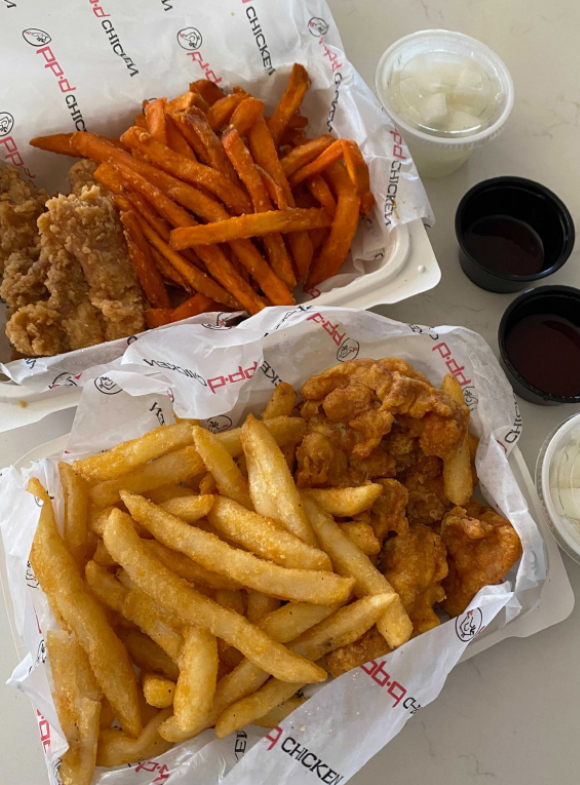 Bb.q's fried chicken: Not finger lickin' good
Cozily tucked in the corner of Northpark Plaza alongside Boba Time and Donut Star, bb.q Chicken is the newest fried chicken restaurant in Irvine. An expansive restaurant chain occupying 15 states, bb.q Chicken has achieved massive success around the country, so I was eager to try their famous Korean fried chicken.
Right beside the restaurant, there are plenty of tables and chairs outside for customers to enjoy their meal. Especially during the COVID-19 pandemic, it is a plus that people have the option of where to dine. Walking inside, it was clear that excellent precautions were being taken by the cashiers and chefs to safely cook and serve food. Employees of bb.q Chicken wore masks and gloves, and throughout my time there, I witnessed workers sanitizing tables and counters.
I decided to order from the lunch menu, which, for the reasonable price of $11, includes chicken, sandwich and kimchi fried rice combos, which is a bigger variety than most fried chicken restaurants. Lunch combos come with a soda and a choice of french fries or sweet potato fries. I ordered the Golden Original chicken combo with sweet potato fries along with the Cheesling chicken combo with french fries. Besides these two flavors, you can choose hot spicy, honey garlic, soy garlic and a variety of other seasonings.
Although the staff was welcoming, the wait time for my order was a tad inconvenient. I was told that my chicken would be fried up in 20-25 minutes, but I had to wait for approximately 40 minutes until I finally received my food. I recommend that you preorder your food over the phone or through their website before leaving the house to avoid the long wait.
As for the food itself, I was admittedly disappointed considering the long wait time and the high praise that other bb.q Chicken locations received. The Cheesling flavored chicken had practically no cheesy taste, with only a hint of artificial cheese powder flavor. I was expecting my fried chicken to be satisfyingly crispy on my first bite but was met with a disappointing, soggy texture. The same can be said for their Golden Original Chicken. Although this is their signature flavor, I didn't catch a rich enough taste for customers to come back for more. Thankfully, the sweet potato fries were crispy and complimented the flavors of the chicken. The combo also came with a spicy sauce and a free cup of pickled radishes that added another dimension of taste when combined with the chicken.
My recommendation to anybody looking for Korean fried chicken is to skip this location and instead visit Furai Chicken, located in the Zion Market at the Northwood Town Center, which has crispy fried chicken that bursts with flavor with a shorter waiting time. A bb.q Chicken in the Diamond Jamboree plaza offers chicken just as delicious as that of Furai. Suffice to say, Northpark bb.q Chicken's chefs have plenty of learning to do in order to reach the expectations that customers have come to expect from their competitors and predecessors.