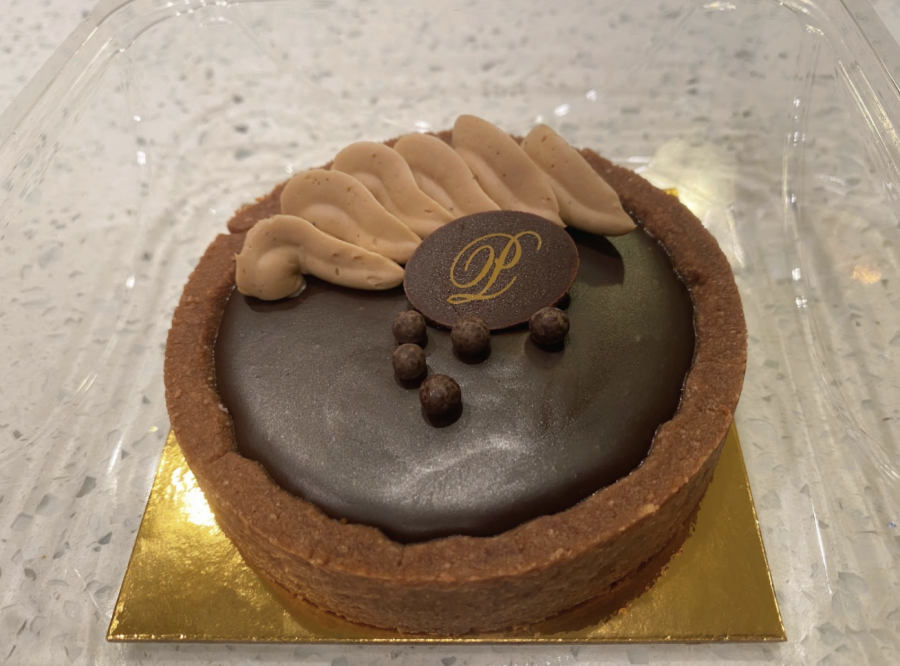 Pandor Bakery: The newest pastry hotspot
The buzz of lively chatter and jazz, as well as the aroma of freshly baked treats greet you as you walk through the wide-open doors of Pandor Bakery, an artisan bakery and French Bistro cafe that offers any baked good you can imagine: from quiches to pistachio pear tarts and macrons to olive loaves. 
Although it has only been open in Irvine for five weeks, it has already become a local hotspot, with people flocking to the outdoor seating areas and distanced indoor tables. The recommended time to visit is in the morning—not only will it be less crowded, but the bread will be freshest. Perhaps its popularity is because of its four other successful Orange County stores or its prime location in the Tustin Market Place, but either way, Pandor Bakery is here to stay.
As soon as you enter, you are welcomed with a refreshing sight, to say the least. Rather than the overused industrial and white-scaled style of most new indoor spaces, Pandor Bakery is bursting with energy: complementary colors, varying textures and contemporary furnishings. While you will likely have to wait in a line to order, you can feast your eyes on vibrant interior design choices, which include the bright pink mural on your left and the blind arches on your right, or better yet, the endless array of pastries and breads in the display cases.
Once you reach the front of the line, the cashier will take your order, as usual, but it's best to have in mind what you're looking to buy, given that the cashier does not walk along the display with you to bag the pastries you point at, as those in other bakeries do. After the cashier rings you up, you will need to wait, especially if you have a larger order, which can be slightly inconvenient. I had to wait around fifteen minutes for them to box my pastries, which were ready in the display Also, don't forget to check your order once your name is called because they do seem to mix up orders frequently, although it's completely understandable as all the employees are new. 
Admittedly, Pandor Bakery is a little pricier than some of its competitors. A box of pastries may cost you upwards of $20 depending on your choices. However, if you're willing to spend a little extra money, it is definitely worth it: their products are consistently high quality.
Pandor Bakery offers breakfast, lunch and dinner in addition to their baked goods. While I personally did not try any of these meals, their Yelp reviews are flooded with positive comments, particularly for the crepes. There are also a number of previous visitors who found their menu items not up to par with their prices. I did, however, try a few pastries and a baguette—more specifically, the chocolate croissant, almond croissant, strawberry custard danish, chocolate caramel tart, mixed fruit tart and the Baguette du Chef. The croissants are buttery and unbelievably flaky, the strawberry custard danish is beautifully light and the tarts are perfectly short with creamy fillings. The baguette has a crispy crust and chewy center, and it tastes great, whether you eat it plain, with butter or with any other topping.
Of course, one of the most important considerations these days is COVID-19 safety, and unfortunately, Pandor Bakery is not leading in this department. While all of the workers are wearing masks, some are wearing them incorrectly, not to mention that many workers are not wearing gloves. Lately, most indoor businesses also have frequent sanitation procedures that include wiping down pin pads and counters between customers, but in the 40 minutes I was there, it seemed as if little to no precautionary measures of that sort were being taken. Social distancing throughout the store is also not well enforced, especially because of the limited indoor space, and neither is the "mandatory" mask policy. The Tustin Marketplace location currently does not offer curbside pickup or online orders, which may be a downside to those who are looking to limit face-to-face interactions in the midst of this public health crisis. 
All that being said, Pandor Bakery is a superb choice if you're looking for takeout to enjoy with your family at home and an even better choice after the pandemic subsides.